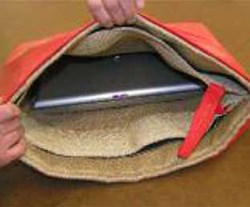 Fire containment bags could be the ideal solution for minimizing risk associated with battery fires and explosions, particularly in a confined space, such as an aircraft, where throwing on water will not contain a potential explosion
Neptune, NJ (PRWEB) August 30, 2013
All Hands Fire Equipment, a leading provider of fire safety equipment, offers a solution that could be ideal in reducing the risk of fire and explosions associated with lithium ion battery explosions -- particularly on aircrafts.
There has been an increase in fires and explosions resulting from overheating lithium ion batteries, which are found in laptops, tablet computers, e-book reading devices, and smartphones. While the batteries are designed for longer lifespans they do pose a risk of fire. This has raised concerns of many, including those in the air travel industry. Many believe that actions should be taken to ensure that anyone carrying a device with a lithium ion battery must have the ability to contain that device, to prevent catastrophe from fire or explosion, which could be lethal in the confines of an aircraft in-flight.
The Techlicious blog recently published an article that talks about the increasing number of recalls due to safety problems these batteries have posed. It indicated that over 40 recalls since 2002 have happened due to risk of fire and explosion. All Hands Fire Equipment president, Donald Colarusso commented on the article, "The blog has some great information relating to risks and safety tips when a Lithium Ion battery malfunctions and some startling information about tests conducted that stated that the batteries themselves got to from 140 degrees Fahrenheit to 350 degrees Fahrenheit. We're aware of the risk when thermal runway occurs and that's why we supply a fire containment bag that can help."
Fire Containment Bags with Gloves
"Fire containment bags could be the ideal solution for minimizing risk associated with battery fires and explosions, particularly in a confined space, such as an aircraft, where throwing on water will not contain a potential explosion." Mr. Colarusso, who has more than 2 decades of experience as a firefighter said,"The Hot-Stop® 'L' Firefighter Fire Containment Bag was designed for in-flight safety and was tested successfully by the FAA. It includes a pair of fire-proof gloves due to the fact that a device could get too hot to handle very quickly."
A video demonstrating the fire containment bag in action is available for viewing on YouTube at http://www.youtube.com/watch?v=qyLSLhwj-lE.
With the increasing number of passengers and in-flight staff carrying devices that contain Lithium Ion batteries, All Hands Fire Equipment hopes that frequent fliers, aircraft employees, and both private plane owners and commercial airlines will see fit to reduce the danger of fire and explosion by purchasing fire containment bags [along with fire extinguishers] for in-flight safety.
The fire containment bags are available online on the All Hands Fire Equipment website at http://www.allhandsfire.com/Fire-Containment-Bag and can be shipped anywhere nationally or internationally.
About All Hands Fire Equipment is a family owned and operated company that has been in business since 2001. All Hands offers a variety of fire safety supplies, including survival gear, emergency supplies, FDNY items, design your own badges and firefighter helmets, and more.
Mailing Address:
506 Atkins Avenue
Neptune NJ 07753
Email: sales(at)allhandsfire(dot)com
Follow All Hands Fire Equipment on Twitter: http://twitter.com/allhandsfire and on Facebook – https://www.facebook.com/AllHandsFire.