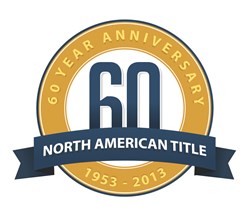 Miami, Fla. (PRWEB) August 29, 2013
Tom Fischer has been named president and chief executive officer of North American Title Group (NATG), succeeding Linda Reed, who is remaining in an advisory role until the end of the year. Fischer brings nearly 25 years of leadership in legal, title, escrow and homebuilder operations to this position.
"We are very happy to introduce Tom Fischer as the new president of the North American Title Group," said Bruce Gross, Lennar Corp. vice president and chief financial officer. Lennar Corp. is the parent company of North American Title.
"The combination of Tom's national title, retail and escrow operations experience, his leadership style and skills, and his knowledge of homebuilder sales and operations make this opportunity a perfect fit for him and for North American Title," said Gross. "He will be instrumental in the stewardship and continued success of the company."
Fischer's career began as an attorney at a leading Ohio law firm. After eight years in the legal profession, he started a title agency in 1998 that was later sold to a Centex Homes subsidiary, Commerce Title. Fischer served as regional vice president, senior vice president, and ultimately as president of Commerce Title Insurance Co., and executive vice president, director of National Title Operations for Commerce Title Co.
Commerce Title had a national footprint and handled captive builder business as well as non-builder business before it was acquired in 2010 following Pulte Homes' purchase of Centex Homes. Most recently, Fischer served as director of homebuilder sales and operations for the Eastern division of First American Title Insurance Co.
"Linda Reed and the North American Title team have done a tremendous job of building North American Title Group into an industry-leading company," said Fischer. "I am honored to have been entrusted with this opportunity. I look forward to working with the talented NAT team as we grow our company and continue to provide superior products and service to our customers."
Fischer will maintain offices in Hudson, Ohio, and at the company headquarters in Miami.
About North American Title (NAT)
With well over 1,000 associates and a vast network of branches from coast to coast, North American Title is among the largest real estate settlement service providers in the United States. Consisting of both agent and underwriter operations, NAT has the resources and stability of a New York Stock Exchange company with over $10.3 billion in assets (fiscal quarter ending Nov. 30, 2012). North American Title's agency network operates nationally under the name North American Title Co. (NATC), and is located in 16 of the fastest-growing states: Arizona, California, Colorado, Delaware, Florida, Illinois, Maryland, Minnesota, Nevada, New Jersey, New York, Pennsylvania, Texas, Utah, Virginia and Washington, D.C. Through our relationship with our expanding affiliate network, NATC provides real estate settlement services in all 50 states. With annual gross revenues in fiscal 2012 of approximately $200 million, NAT is among the largest independent title agencies in the United States. NAT is headquartered in Miami, Fla. To learn more, visit http://www.nat.com/.