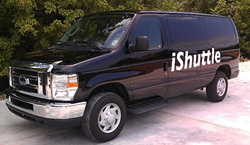 The new route will debut on Sunday, Sept. 15.
Shreveport, LA (PRWEB) August 30, 2013
iShuttle, an intercity limousine transportation service which launched in Shreveport-Bossier in 2010, will introduce a new shuttle service relaying passengers between Dallas-Fort Worth and Shreveport-Bossier. The new route will debut on Sunday, Sept. 15. Cost for one to two passengers is $200 per person each way, or $150 each way for three to five passengers. Shuttle service will pick up customers at the requested location and depart Shreveport-Bossier or DFW/Lovefield by reservation only. Fares are non-refundable.
iShuttle amenities include free Wi-Fi, smartphone charging stations, a mini-fridge with bottled water and more. To make reservations for iShuttle services or learn more, visit http://www.ishuttle.us or download the "iShuttle" app for iPhone or Android. Customers will be required to register for a free iShuttle account through the app or website in order to participate in the new Shreveport to DFW shuttle service.
For more information on iShuttle, contact Philip Maxfield at (318) 677-4388 or Philip(at)ishuttle(dot)us. For more information on things to see and do in Shreveport-Bossier, visit http://www.shreveport-bossier.org.