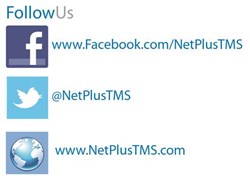 NetPlus cuts invoice processing time from 20+ days down to 8 days
Gaithersburg, MD (PRWEB) August 29, 2013
NetPlus, a leading provider of Telecom Expense Management Software, has announced one of its large federal clients has improved its invoice processing and chargeback efficiency by over 50%. NetPlus Telecom Expense management automates the monthly cost allocation to internal departments as well as provision and order new service.
"We are glad that our client has had such success with our telecom expense management suite. One of the strengths of NetPlus Telecom Expense Management is its ability to accurately bill the correct internal cost centers. The time savings they have experience is just the beginning. We expect even greater gains in both cost recovery and time savings in the months to come," said Matt Lewis, NetPlus President.
NetPlus Telecom Expense Management replaced a tedious manual paper process of internal chargeback, taking processing time from 20 plus working days to 8 days in the first month with greater efficiencies expected. Vendor bills are entered once into NetPlus and automatically processed through to charge the correct departments.
An industry leading suite of products, NetPlus Telecom Expense Management helps clients tackle their telecom expenses. Invoice processing, inventory validation, dashboards, reporting, service provisioning are just a few of the features in NetPlus Telecom Expense Management.
About NetPlus
NetPlus is a leading Communications Management solutions provider for both commercial and government entities. With over 25 years of experience NetPlus offers a suite of solutions for expense management, data validation, fault management, inventory tracking and control, provisioning, and more. Customers like Department of Defense, Department of State, United States Air Force, Avaya, Verizon, and the Pentagon utilize NetPlus solutions for the daily operation of their communications and data network. NetPlus is JITC certified and can be procured through Vanguard and GSA. Headquartered in Gaithersburg, MD, NetPlus is a division of Ventraq Corporation. For more information, visit http://www.NetPlusTMS.com.