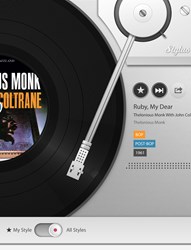 Users can access Stylus™ via the app tab on free and premium Spotify accounts.
Quincy, MA (PRWEB) August 30, 2013
Stylus™, a music application specially designed for leading music streaming service Spotify, recently premiered as a fun, easy and exciting way for listeners to explore and discover the best of classic and contemporary jazz from among an essential database of over 1,200 titles.
Stylus™ derives its name from its striking turntable-like graphics, which lend the app an authentic ambiance that jazz aficionados will recognize and appreciate. The clean, functional and interactive experience of Stylus™ is designed to guide users through the vast and often intimidating world of jazz. The app's unique interface coupled with Spotify's 'star' feature, smartly adapts to define and organize the listener's personal taste. In addition, Stylus™ provides detailed artist bios, track information and cover art, further enhancing the user experience.
Concord is pleased to partner with JazzTimes who will provide regular app updates of the most noteworthy new jazz releases, while also serving as a co-marketing partner. "We're excited to be a part of this innovative app created by Concord for Spotify," says Lee Mergner, publisher of JazzTimes. "In providing weekly recommendations for the most interesting new releases, JazzTimes is committed to supporting this app that is certain to enhance the listening experience for jazz and music fans."
Here's a video intro to Stylus.
Concord Music Group designed, developed and will maintain Stylus™; however the Stylus™ music library is pulled from a broad spectrum of the best jazz titles currently available on Spotify without regard to label affiliation. The initial Stylus™ collection of over 1,200 jazz titles features both essential and lesser known recordings from a wide range of subgenres such as big band/swing, bebop, jazz-fusion, vocal and contemporary jazz, among many others. Originators such as Louis Armstrong and Jelly Roll Morton, classic influencers like Charlie Parker, John Coltrane and Miles Davis along with modern-day stars such as Robert Glasper and Christian Scott are all well represented.
Users can access Stylus™ via the app tab on free and premium Spotify accounts.
Stylus Jazz Spotify
Twitter
Facebook
Jazz Times is published by Madavor Media, which owns enthusiast magazines and web channels across several interest areas, from sports to music to surf fashion and culture. Additional titles include BirdWatching, Foam, Gluten-Free Living, GolfGetaways, International Figure Skating, Volleyball and The Writer. For more information, visit http://www.madavor.com or call 800.437.5828.