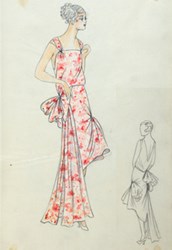 New York, NY (PRWEB) August 30, 2013
The second update of 2013 is now live on the Berg Fashion Library, and with it comes a wealth of exciting new content. With New York Fashion Week just around the corner, Berg refreshes with 470 images from a new image partner, the Bath Fashion Museum, 500 new images from the Philadelphia Museum of Art, 2 new lesson plans, 5 new journal issues and 9 Online Exclusive articles.
The Berg Fashion Library is a indispensable online portal which offers fully cross-searchable access to an expanding range of Berg content collections – including the Berg Encyclopedia of World Dress and Fashion online, e-books, reference works, images, and much more.
The new content includes:

9 Encyclopedia of World Dress and Fashion online exclusive articles:
Okpella, Jean Borgatti (Africa)
Yoruba "Uniforms" (Asọ Ebì), Okechukwu Nwafor (Africa)
Snapshot: Asọ Ebì and Fashion Magazines in Nigeria, Okechukwu Nwafor (Africa)
Dress of the Virgin of the Rosary in Eighteenth-century Peru, Kelly Gage (Latin America and the Caribbean)
Carnaval Costume in Brazil, Pravina Shukla (Latin America and the Caribbean)
The Rituals and Metaphors of Dressing, Leopoldina Fortunati (Global Perspectives)
Snapshot: Steampunk, Sandra Ley (Global Perspectives)
Snapshot: Sonja Henie, Moira Harris (Global Perspectives)
Figure Skating Dress and Costume, Moira Harris (Global Perspectives)
500 new images from the Philadelphia Museum of Art (batch 2 of 5)
470 new images from the Bath Fashion Museum (batch 1 of 2)
5 new journal issues for mutual subscribers: Fashion Theory 17:2; Fashion Theory 17:3; Fashion Practice 5:1; Textile 11:1; Textile 11:2
2 new lesson plans: 'Fashion and National Identity: An Intercultural Overview' and 'Costume and Costuming: A Brief View'
Image: Fashion Drawing of the front view of a below the knee, sleeveless robe du soir with a square cut neckline with wide shoulder straps gathered into it, a draped bodice with a natural waistline, and a skirt decorated with large puffs of fabric. One is placed on the back side waist and the other at the back side hip, which creates a large ruffle at the front of the dress. A pointed panel inserted at the left side waist seams gathered fabric to the skirt to fall to floor length. There is a pencil drawing of the back view on the bottom right.© Fashion Museum, Bath and North East Somerset Council
For media enquiries and to obtain free press review access please contact:
Alana Podolsky
Oxford University Press │ Publicity
alana(dot)podolsky(at)oup(dot)com │ 212.726.6057