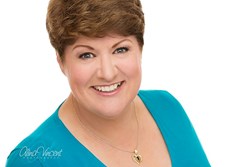 We have Finance, Family, Food, Fitness, but two of the most important words, Fun and Filanthropy (yes, it's spelled with an F in my world) are critical to a well balanced life. - Adryenn Ashley
Reno, NV (PRWEB) August 29, 2013
Right on the heels of the buzz about the soon to be released talk show "the f word" comes more great news! The cast is joined by two more leading ladies, Sandra Dee Robinson and Helen Brahms.
About the additions, Executive Producer and Host Adryenn Ashley said, "We have Finance, Family, Food, Fitness, but two of the most important words, Fun and Filanthropy (yes, it's spelled with an F in my world) are critical to a well balanced life."
About Sandra Dee Robinson
No stranger to cameras, Robinson is a soap and sitcom sensation, starring in such titles as Days of our Lives, Another World and General Hospital and with appearances on popular shows such as Secret Life of an American Teenager, Two and a Half Men and Criminal Minds. She currently portrays Christine, a mildly compulsive psychotherapist, on the web series, The Bay.
With her dynamic background in front of the camera, and a personal commitment to altruism, Robinson is inspired to dig deep in celeb culture and discover what motivates big ticket philanthropy. Her inspirational segment will showcase the causes that inspire A-list endorsers to open their hearts, and their wallets.
About Helen Brahms
Brahms brings boundless personality and a passion for adventure to the set, alongside her 15 years of experience in the luxury travel market, and with Cruise Planners, an American Express Travel Representative. The New Zealand native is the host of the weekly Have2Cruise Radio Show, touted a "fresh approach to travel," and the author of the book, "Congratulations! You're Going on a Cruise! Now What?" A certified Elite Cruise Counselor, Brahms is renowned for putting a twist on travel planning.
Join Brahms for an exclusive look at VIP vacationing. During her segments, viewers will indulge in behind-the-scenes adventures in high-end travel, and gallivant with powerful players in the elite retreat industry.
You can catch both Sandra Dee and Helen on the air, online, and at http://thefwordtv.com.