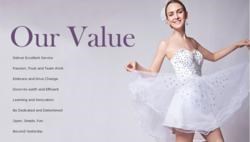 (PRWEB) August 30, 2013
MyDressCity, a leading wedding dress manufacturer and retailer, has recently released its new collection of print Quinceanera dresses (http://www.mydresscity.com/print-quinceanera-dresses_c46). These new dresses come with big discounts, up to 59% off, and the company hopes to expand its overseas market eagerly.
MyDressCity.com has got a lot of inquiries for its products and services in the summer. The new print Quinceanera dresses are featured with trendy styles, graceful looks and delicate craftsmanship. According to a spokesman for the company, the special offer is valid until Sept. 20, 2013.
"We are excited to launch the promotion, and offering discounted print Quinceanera dresses for our customers. People can find the lowest prices for trendy Quinceanera dresses at our website. With so many options of discount women's dresses, we are providing an ideal dress solution for you," says, a spokesman for the company.
MyDressCity is devoted to providing the best women's dresses to its clients around the world. Now, the company is providing similar discounts on its women's dresses, including pretty Quinceanera dresses, nightclub dresses, elegant prom dresses, little black dresses, lovely cocktail dresses, and much more. Custom designs and plus size outfits are offered by MyDressCity.com without any extra cost.
About MyDressCity
MyDressCity specializes in the manufacture and retail of all kinds of women's dresses. The company is a forward-thinking firm, and its goal is to make women feel confident, sexy, and contemporary. MyDressCity is trying to offer its customers more choices with affordable prices, and they accept customer's own designs as well.
For more information, please visit http://www.mydresscity.com.