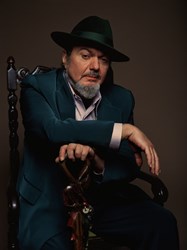 Napa, CA (PRWEB) August 30, 2013
Dr. John, or Mac Rebennack as known to friends and family, is universally celebrated as the living embodiment of the rich musical heritage exclusive to New Orleans. His very colorful musical career began in the 1950s when he wrote and played guitar on some of the greatest records to come out of the Crescent City, including recordings by Professor Longhair, Art Neville, Joe Tex and Frankie Ford. A notorious gun incident forced the artist to give up the guitar and concentrate on organ and piano. Further trouble at home sent Dr. John west in the 1960s, where he continued to be in demand as a session musician, playing on records by Sonny and Cher, Van Morrison, Aretha Franklin and The Rolling Stones' infamous Exile On Main St. to name a few.
During that time he also launched his solo career, developing the charismatic persona of Dr. John The Nite Tripper. Adorned with voodoo charms and regalia, a legend was born with his breakthrough 1968 album Gris-gris, which established his unique blend of voodoo mysticism, funk, rhythm & blues, psychedelic rock and Creole roots. Several of his many career highlights include the masterful album Sun, Moon and Herbs in 1971 which included cameos from Eric Clapton and Mick Jagger and 1973's In The Right Place, which contained the chart hits "Right Place Wrong Time" and "Such A Night."
Dr. John garnered Grammy award wins in 1989, 1992, 1996 and 2000. In 2004, his musical love letter to the city of New Orleans, "N'awlinz Dis Dat or D'udda," was awarded the prestigious Académie Charles Cros 57ème Palmarès award in France. It was the first time since the 1970s that an artist from North America received the award. He has also received six other nominations over the years. In 2007 he was nominated for a Grammy for "Sippiana Hericane," his Hurricane Katrina benefit disc. Other awards include the American Society of Young Musicians 2007 Trailblazer Award.
Tickets for Dr. John plus Jenny Kerr are $40/55. They are on sale now and can be purchased through the theatre website at http://www.uptowntheatrenapa.com, at Ticketmaster (http://www.ticketmaster.com) or at the theatre box office (please call 707.259.0123 ext. 6 for hours). To find out more, please visit http://www.uptowntheatrenapa.com.
The Uptown Theatre Napa is downtown's ultimate destination for live concerts. Nestled in the famed West End district, this stunningly restored art deco masterpiece showcases only the finest acts, featuring music, comedy and more. An historic landmark, the Uptown offers a phenomenal, intimate live show experience, with excellent site lines and world class sound and lighting. As concert venues go, this is the place to be. Every seat is a great seat so buy concert tickets now!