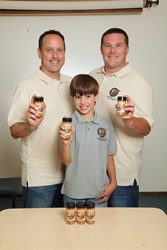 There is nothing like it on the market--and it has tons of flavor without salt!
Kelseyville, CA (PRWEB) August 31, 2013
"We are thrilled that Omelet Express owner, Don Taylor, has placed Engage Organics Salt-free Seasonings Original All-Purpose on his tables for salt-conscious consumers," says Pat Gage.
Pat Gage (68) and husband, Jon, became pioneers in the natural salt-free market, when their former company, Parsley Patch Salt-free Blends, garnered 33% market share in California in the 1980's before they sold their company to McCormick in an effort to make the product a house-hold name.
After years of watching their favorite blends fade into oblivion, the Gages' decided to bring back their secret recipes in an organic rendition to a new generation of consumers. Ironically, the Gages' are finding that many people have been asking for their seasonings over the intervening years.
Now that the same recipes are back under the Engage Organics Salt-free Seasoning Blends brand, the Gages' are thrilled to renew relationships with many of their favorite stores that help make their former product popular.
Engage Organics is a small family business keen on teaching and maintaining the entrepreneurial skills needed to create a successful small business.
Now son, Jason Sherwood (41), and grandchild, Jack Sherwood (9), along with their cousin, Jeremy Fitzpatrick (35), are learning the business dynamics from the ground up. This dynamic trio participate in blending, bottling, and greeting customers by doing in-store demos.
Cousins, Sherwood and Fitzpatrick, have recently created their own "hot" barbecue rub that turns beef, chicken, ribs, fish, pork, and veggies in gourmet faire. The young food enthusiasts are proud their new product is 100% USDA organic, salt-free, and gluten-free. "There is nothing like it on the market--and it has tons of flavor without salt!," says Jason Sherwood.
Engage Organics Salt-free Seasoning Blends come in 9 varieties. Look for the Original All-Purpose with and without sesame seeds. Of course, the famous Garlicsaltless Blend makes the best garlic bread on the planet; while Tuscany-Mix puts zip into anything pasta. The Mexi-Mix is a sure bet for replacing those high sodium taco seasoning packets with real flavor instead of salt. And if you want a Starbuck's treat in your cup of java at home, try Sweet-Cinn and gain the cholesterol lowering benefits of cinnamon in a stir. Engage Organics Lemon Pepper is completely void of sugar and salt, which are the main ingredients in most Lemon Peppers. Engage Organics Lemon Pepper has pucker power and is flying off the shelves. Don't miss It's-A-Dilly, a cult favorite for salmon and beyond. And lastly, the new Go-Grill-A-Rub turns barbecue into bliss.
These salt-free seasoning recipes are the identical recipes that made each brand famous under the Parsley Patch label.
If you would like more information about Engage Organics Salt-free Seasoning Blends, go to http://www.engageorganics.com.