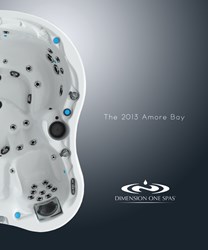 Vista, CA (PRWEB) August 30, 2013
It's full speed ahead for Dimension One Spas (D1), the innovation leader in the hot tub and swim spa industry. The company welcomed two new customer service representatives, Desiree Sanders and Brittany Cruson as well as a new product manager, Skye Svenningsen to the team in the last few months. D1 is also actively seeking highly qualified engineers and sales representatives. Interested candidates can email HR at ccruz(at)d1spas(dot)com more information and to submit a resume, or contact D1 through LinkedIn.
New and improved marketing and sales programs have been a major influence in the company's hot tub growth this year. Next year, D1 plans to add on to these programs as well as make a significant investment in new product enhancements, carrying on the D1 legacy of innovation.
"In addition to building the Dimension One team, we have been steadily increasing our investments in web development, lead generation, merchandising, and consumer promotions. These investments in turn are driving significant growth for our existing dealers as well as bringing in new dealers," said Greg Meisenzahl, D1's General Manager. "I am very excited about the investments we have been making in the Dimension One brand."
###
About Dimension One Spas
Dimension One Spas (D1), founded in 1977, is the industry leader in designing and manufacturing luxury home hot tub hydrotherapy and aquatic fitness products. D1 has combined its innovations in materials, science and water technology to bring customers the most advanced spas in the world. D1 has created a benchmark for quality and innovation, offering four distinct high performance collections. Please visit http://www.d1spas.com for more information.