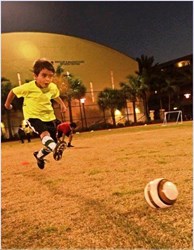 Sunny Isles Beach, FL (PRWEB) August 31, 2013
The City of Sunny Isles Beach is pleased to present an extensive listing of programs and events for both children and adults published in the Fall SIB Living Magazine. Programs, courses and activities are held at the community center at Pelican Community Park, 18115 North Bay Road or at the neighboring Senator Gwen Margolis Park, 17825 North Bay Road, Sunny Isles Beach.
New for this year, the City will be offering adult non-credit enrichment courses on foreign film and the art of Leonardo Da Vinci, presented by the Florida International University's Osher Lifelong Learning Institute (OLLI). For a listing of times, locations and fees please refer to the Fall Living Magazine.
Another new venture this fall will be the free computer classes for ages 60 and older hosted by the City and designed and taught by S.T.E.P.S. in the Right Direction, Inc., a non-profit organization serving people in need in Miami-Dade and Monroe counties (http://www.stepsflorida.org). Through federal funding, S.T.E.P.S. is able to provide this technology training to persons 60 and older at no cost. The City's ongoing fee-based class offerings for adults continue as well, including art, yoga (indoors for a fee, outdoors for no fee), language and computer.
As always there are a multitude of youth programs being offered, both creative and athletic, in sports, art, music and Lego engineering which encourage children to expand their horizons. Classic programs such as basketball, soccer, baseball, cheerleading, karate and gymnastics provide a way for children to learn discipline while releasing that youthful energy which has been stored up all day.
Pick up a copy of the Sunny Isles Beach Fall Living Magazine filled with valuable City information. If browsing the web is more your style, visit the Recreation and Culture page at sibfl.net to check the complete listing of programs. For additional information, please contact the Cultural & Community Services Department at 305.792.1706.