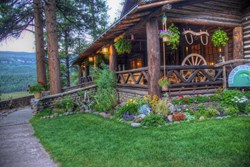 'It is unusual for a dude ranch to be full at the end of summer, due to most families having kids back in school already.' - Linda Van Berkum, Rainbow Trout Ranch
Antonito, CO (PRWEB) August 31, 2013
Southern Colorado dude and guest ranch, Rainbow Trout Ranch, culminated their 21st summer season with all cabins in use.
"It is unusual for a dude ranch to be full at the end of summer, due to most families having kids back in school already," says owner Linda Van Berkum. She goes on to say, "It was a wonderful week, with a great mix of families with teens and younger children from all over the country, as well as family from England. What a fun way to end our summer season--and many of them have already rebooked!"
Rainbow Trout Ranch will stay open for another three weeks for the "Adults Only" season that comes to a close on September 22nd. According to Linda's husband, Doug, it is a fun time as well with the focus being mainly on riding, fishing and fireside evenings, but he says that "We do miss the summer energy with all those young people here."
About Rainbow Trout Ranch
Rainbow Trout Ranch is a family owned dude ranch in excellent standing with both the state and national dude ranching associations. The ranch has a long tradition of providing superb western hospitality for families, couples, groups and singles looking for an adventure vacation in the Rocky Mountains of southern Colorado. Inquiries can be made to 800.633.3397 or the website.