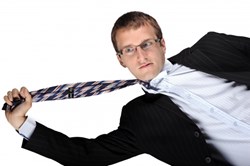 We did something to counteract that reality.
Los Angeles, CA (PRWEB) August 31, 2013
Tiecoon.com, one of the USA's largest necktie wholesalers, is announcing a "Beat The Clock" 30% - 25% - 20% off sale to stimulate sales this Labor Day weekend. The discount will begin at 30% off on Saturday, and reduce daily until Monday.
The discount will be valid on all neckties, extra long ties, skinny ties, bowties, and boy's ties.
The coupon code is "LABOR", and expires Monday 9/2/2013. It will not be backdated, has no cash value, and is not valid on shipping.
"We were expecting a slow weekend, but did something to counteract that reality. You have to think one step ahead," TCDC president Jesse Pederson said.