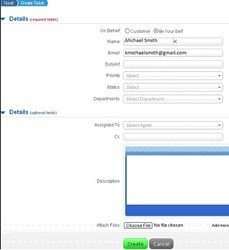 "SutiDesk is an Online Ticketing System which supports ticket creation, resolution, notification to reports – an end to end solution," said N.D. Reddy, founder and CEO of SutiSoft, Inc.
Los Altos, CA (PRWEB) September 24, 2013
SutiSoft announces the release of SutiDesk1.0, its online help desk software.
SutiDesk includes the creation and assignment of support tickets to agents, email templates, ticket history and a knowledgebase.
Key Features Include:
Company Registration
Register a company with SutiDesk by creating an account as admin.
Add Agents
Administrators can create any number of agents.
Ticket Creation
Create, prioritize and assign tickets to agents. An Agent can update, respond, reassign tickets and more.
Email Templates
Customizable email templates.
Knowledge Base
Build your own knowledge base by simply importing support responses and ticket resolutions.
Automatic Notifications
Automatic email notifications to end users and ticket owners.
Ticket History
Ability to view customer history and interactions.
Reports
Customize and generate reports based on customers, ticket status, agent performance and more.
Visit http://www.sutidesk.com/ for more info. Pricing starts at $19.95 per agent, per month.
About SutiSoft Inc:
SutiSoft is a leading provider of integrated suites of web-based business solutions that manage tasks such as human resources, payroll, employee travel and expense management, ERP, CRM, document management and various e-signature solutions. The company also delivers a suite of security products such as fingerprint authentication, dynamic touch screen signature authentication, Bio-Attendance, Keystroke Encryption, Single Sign-On and other products. These easy-to-use web-based solutions help small, medium (SMB) and large enterprises control costs, save time and secure their business processes.
The company's products are developed using Java, Flex, HTML 5, AJAX, C, C++ and other cutting-edge technologies which allow SutiSoft to retain its core values which are Simple, Scalable, Secured, and Seamless. Headquartered in Los Altos, California USA, SutiSoft has offices in Northern California, India, Germany and Japan. Additional information is available at http://www.sutisoft.com.