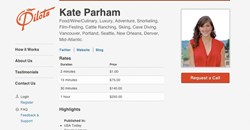 "Why read a Lonely Planet book about Costa Rica when you can talk directly to the author who wrote it?"

Ryan Croft
Founder, Pilots
Washington, DC (PRWEB) September 09, 2013
Picture-perfect honeymoons and memorable family reunions just got a lot easier to plan. Croft Global Travel, a Virginia-based adventure travel firm, has announced the launch of a new service, Pilots Expert Travel Network.
"The vision behind Pilots came from years of leading group adventure trips throughout Latin America, Europe and the Caribbean. Travel planning is a frustrating process and many people don't have the time to conduct extensive online research or read a guidebook. I knew there had to be a better way," said Croft Global Travel founder, Ryan Croft. "Why would anyone read a Lonely Planet book about Costa Rica when you can talk directly to the author who wrote it?"
Croft enlisted the help of elite travel authors and journalists from top-tier publications. He believes luxury travelers can gain valuable insight into authentic travel destinations by speaking directly with guidebook authors for Lonely Planet or journalists from The New York Times, BBC Travel and The Washington Post Company. Instead of taking 10-20 hours to read the guidebook, a travel guru could answer all your questions in an hour or less.
Anyone can browse the Pilots site, select an expert based on his or her destination or interests and, for a fee, schedule a phone call directly with the expert through the Pilots website. Experts set their own rates and the greater the expert's experience or prestige, the more he or she may charge for the phone consultation.
The Pilots launch is made in alliance with Fanaticall, Inc., a company that powers private label expert networks.
"We are pleased to be selected as the technology partner that powers the Pilots Expert Travel Network," stated Brian Christie, CEO and Chief Innovation Officer at Fanaticall, Inc. "The Pilots network fills a service gap in the marketplace between expensive travel planning consultants that provide customized advice under large engagements and the more general information that one can find on a free website like TripAdvisor."
About Croft Global Travel:
Since 2009, Croft Global Travel has provided travel planning services and guided adventures to Latin America, Europe and the Caribbean. The company's mission has always been to provide customized, "experiential" adventures for those travelers who seek more meaningful vacations. The 2013 launch of Pilots Expert Travel Network is Croft Global Travel's first software product to aid in the travel planning process.
About Fanaticall, Inc:
Founded by serial entrepreneur, Zach Buckner, Fanaticall provides patent-pending technology as turnkey services that enable organizations and entrepreneurs to create private label expert networks. Fanaticall is a portfolio company of TomorrowVentures, the investment arm of Google Chairman Eric Schmidt. For more information, please visit http://www.fanaticall.com