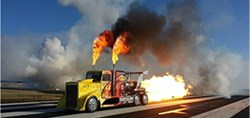 Midland/Odessa (PRWEB) September 16, 2013
The Commemorative Air Force (CAF) is proud to welcome SHOCKWAVE, the world's fastest jet truck to CAF AIRSHO, Oct. 12-13, 2013.
SHOCKWAVE Jet Truck is a triple jet-engine truck operated by Darnell Racing Enterprises. It is the world's fastest jet powered truck holding the Guinness Book of World Records for jet-truck speed at an astounding 376 mph.
Between the flying acts of AIRSHO, SHOCKWAVE will take the audience on a thrill ride as it rockets past them at awe inspiring speeds on our West Texas runway! The impressive jet powered truck will perform with its three afterburning J34-48 Jet engines offering three times the smoke, fire, noise and horsepower. Be ready for quite the show!
The world famous jet truck was built and designed by Les Shockley and is now owned by Darnell Racing Enterprises, Inc. For over 10 years Darnell Racing has been performing at air shows and dazzling the crowd with every performance.
Each year AIRSHO offers an impressive display of vintage military aircraft and popular civilian airshow performers and a chance to get close to the aircraft.
Tickets can be purchased online at http://www.airsho.org or in the Midland-Odessa, Texas area at Western National Bank, Domino's Pizza and 7-Eleven stores.
For more information visit http://www.airsho.org or call (432) 563-1000.