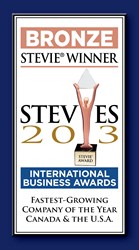 This award recognizes the phenomenal growth trajectory of our company and is a testament to the remarkable group of people that have made it possible
Scottsdale, Arizona (PRWEB) September 04, 2013
During its annual Leaders Meeting in Scottsdale, AZ, USHEALTH Advisors announced its selection as a Bronze Stevie® Award Winner in the 2013 International Business Awards. The Company will be honored October 14th in Barcelona Spain, as one of the Fastest Growing Companies in the USA and Canada. The honor comes just 4 months after USHEALTH Advisors received the Bronze Stevie for Innovation at the 11th annual American Business Awards in Chicago.
"We are delighted that our company has been recognized on both a national and an international stage this year," said USHA Sr. Vice President of Marketing, Bill Shelton. "To be honored by such a prestigious international panel of judges says a lot about our company's leadership and about the dedicated men and women who have chosen to make USHEALTH Advisors their professional home."
The International Business Awards are the world's premier business awards program. All individuals and organizations worldwide – public and private, for-profit and non-profit, large and small - are eligible to submit nominations. The 2013 IBAs received entries from more than 50 nations and territories. Stevie Award winners were selected by more than 250 executives worldwide who participated in the judging process this year.
"This award recognizes the phenomenal growth trajectory of our company and is a testament to the remarkable group of people that have made it possible," added USHA President and CEO Troy McQuagge. "Rarely, will you find a more committed or more galvanized team of sales professionals than what we have assembled here, at USHEALTH Advisors. I am privileged to work on their behalf, as we focus our efforts on building a world-class organization."
More than 3,300 nominations from organizations of all sizes and in virtually every industry were submitted this year for consideration in a wide range of categories, including Most Innovative Company of the Year, Management Team of the Year, Fasted Growing Company of the Year, Corporate Social Responsibility Program of the Year, and Executive of the Year, among others.
About USHEALTH Advisors, L.L.C.
USHEALTH Advisors is the wholly-owned national health insurance distribution arm of USHEALTH Group, Inc. The company sells individual health coverage and supplementary products underwritten by The Freedom Life Insurance Company of America and National Foundation Life Insurance Company, wholly-owned subsidiaries of USHEALTH Group, Inc. The company is focused on serving America's self-employed, small business and individual insurance market through its captive Agent sales force.