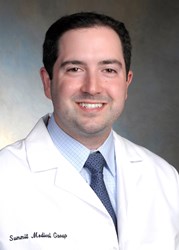 Berkeley Heights, NJ (PRWEB) September 09, 2013
David H. Burstein, M.D., has joined Summit Medical Group, New Jersey's largest private multispecialty medical group. A board-certified otolaryngologist, Dr. Burstein practices with the Ear, Nose and Throat team at the Group's 1 Diamond Hill Road, Berkeley Heights, campus. He specializes in adult and pediatric ear, nose, and throat (ENT) problems. He also has expertise in functional nasal surgery and facial plastic surgery.
Dr. Burstein earned his bachelor of arts in biology summa cum laude with distinction at the University of Pennsylvania School of Arts and Sciences, Philadelphia and he earned his doctor of medicine at New York University School of Medicine, New York City. After graduating, he completed his internship in general surgery and his residency in otolaryngology - head and neck surgery at the State University of New York Downstate Medical Center, Brooklyn, N.Y. At the University of Texas Health Science Center, Houston, he completed a fellowship in facial plastic and reconstructive surgery sponsored by the American Academy of Facial Plastic and Reconstructive Surgery (AAFPRS).
Dr. Burstein is the coauthor of articles, abstracts, and book chapters on a wide range of topics in ear, nose, and throat medicine. His articles and abstracts are published in peer-reviewed scientific journals such as Otolaryngology - Head and Neck Surgery and Facial Plastic Surgery. He has delivered local, regional, and national invited presentations in his field. He is a member of the American Academy of Facial Plastic and Reconstructive Surgery, American Academy of Otolaryngology - Head and Neck Surgery, Triological Society, American College of Surgeons, and American Medical Association.
ABOUT SUMMIT MEDICAL GROUP
Summit Medical Group (SMG) is the largest privately held multispecialty medical practice in New Jersey. SMG maintains a 42-acre healthcare campus in Berkeley Heights and 27 additional practice locations in Bayonne, Bridgewater, Berkeley Heights, Montclair, Morristown, Millburn, Short Hills, Springfield, New Providence, Verona, Warren, Westfield and West Orange. As an East Coast premier multispecialty group, SMG has provided exceptional primary and specialty care since 1929. For more, visit http://www.summitmedicalgroup.com.