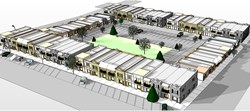 Our development will serve the area by encouraging downtown business and meeting the housing needs of Watford City's visitors and growing population
Watford, ND (PRWEB) September 18, 2013
Watford City Square, a mixed-use community in Watford City, North Dakota, opens its first phase this November.
Combining commercial and business property with residential and hospitality space, the 3-block development will serve travelers and residents alike as shale oil drilling drives strong population and economic growth in the oil-rich Bakken region.
"We're excited to be part of this community," Watford City Square developer John Tennant says. "Our development will serve the area by encouraging downtown business and meeting the housing needs of Watford City's visitors and growing population."
Commercial Opportunities on Main Street
Watford City Square's live-work environment off Main Street will provide much-needed office space in downtown Watford City. Commercial businesses in this mixed-use development have an on-site audience of business travelers and residents.
"We're strengthening our city's core with more opportunities for small business," says Jake Walters, the site's development consultant, who has been working in the area for several years and moved his family to Watford City in 2012. "Watford City Square will complement downtown commerce with retail space, lodging, and permanent housing."
Built-out spaces are move-in ready and available for lease. Two undeveloped but improved lots are for sale. These Phase I lots will complement in-place buildings and can host structures up to four stories tall. Lots from Phases II and III are also available for sale and come with completed grading, paving, and utility services.
Extended-Stay Hospitality and Investment Properties
Watford City Square includes studio and 2-bedroom units for short- or long-term rentals. Extended-stay amenities include a full kitchen, 2-car garage, and in-unit laundry.
Units can be rented long term to give companies a guaranteed place for their employees to work and rest, and executive office suites are available with flexible lease terms.
Duplexes are being built alongside Watford City Square, with the first of 28 townhouse units ready for purchase this November. With two rentable, 1,200-square-foot units, these duplexes are prime real estate investments as people are eager to find living space in the region's constricted housing market.
For more information, visit http://www.watfordcitysquare.com/.