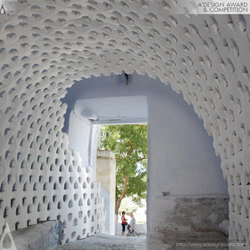 Como, Italy (PRWEB) September 02, 2013
A' Design Award and Competitions are happy to inform that the design Daphne by Fumio Hirakawa and Marina Topunova became winner of the prestigious Golden A' Design Award in Arts, Crafts and Ready-Made Design Category picked as one of the winners by the respected awarding commission of the A' Design Awards & Competitions amidst numerous projects.
About Daphne
Daphne is a site-specific installation situated within the tunneled stairway that interplay with the notion of concealing and revealing the ancient walls of the tunnel leading to the peak of Kasteli. Made entirely of self-supporting paper panels, the enclosure intervenes the visitors' perception of the existing condition as a container of conglomerated memory. LED lighting contained within the panels will illuminate during nighttime that expresses the different perception.
To learn more about the award winning design, please visit: http://www.adesignaward.com/design.php?ID=26773
Creative Team for Daphne
Daphne was realized by Fumio Hirakawa and Marina Topunova
The Golden A' Design Award
The Golden A' Design Award is a prestigious award given to top 3% percentile designs that has achieved an exemplary level of quality in design. The designs are judged by a panel of three different jury which is composed of Academic, Professional and Focus Group Members. The designs are evaluated with score normalization to remove any biases and are voted on aspects such as functionality, ergonomics, engineering, presentation, innovation, usability, fun details, technology, and any other specific points that could be considered, each of these points are further weighted for different jury groups.
About A' Design Award and Competitions
A' Design Award and Competitions, aims to highlight the excellent qualifications of best designs, design concepts and design oriented products. A' Design Award and Competitions are organized and awarded annually and internationally in multiple categories to reach a wide, design-oriented audience. Learn more: http://www.whatisadesignaward.com