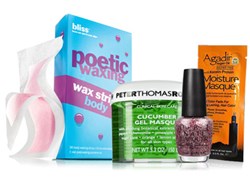 After a week of working hard I like to pamper myself. I feel that I deserve it.
(PRWEB) September 07, 2013
Next Friday at 5:00 p.m., when a coworker makes a tempting happy hour offer, decline. A long week of deadlines and staying late at work calls for a relaxing manicure & pedicure session. Drinking will only lead to exhaustion & fatigue, as well as affect the following day's productivity. In the working world, the weekends are left for both important errands and personal time. Having a late night Friday will surely effect Saturday's potential.
After a week of sticking to a vigorous workout regime, pass on that slice of pizza or dessert. It is a common misconception that after a healthy week or two, one "deserves" to indulge. While experts at TheBeautyPlace.com agree with indulging, the type of leniency acceptable is not up for discussion. Opt for a massage instead of unhealthy food. Sore muscles will be relieved & relaxed by a spa session while unhealthy food choices will leave one feeling unsatisfied and only make the next week at the gym harder.
There is no better feeling than checking in on a savings account to see that annual goals have been met. Someone feeling like goals have been met may feel that the next time funds are available, they should make a big purchase as a reward. On the contrary, enhance the feeling of accomplishment by saving even more. Instead of making back to back appointments at a spa near by, try a a home spa kit. There is nothing more relaxing than bringing the spa home.
While temptations are all around a person, there are simple ways to avoid them and by following these suggestions, one will feel even more rewarded. Primp & pamper to increase quality of life.