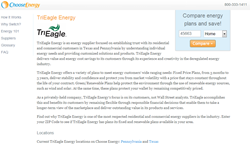 "Choose Energy is always looking to work with energy suppliers to improve enrollment capabilities, and a dedicated platform integration usually results in a significant increase in customer enrollments for the provider." - Jerry Dyess, CEO,Choose Energy
Dallas, Texas (PRWEB) September 02, 2013
In recent months TriEagle Energy and Choose Energy worked closely to better utilize technology and integrate TriEagle enrollments with the Choose Energy platform. At the core of these efforts, both companies are striving to provide a better online enrollment experience and offer selection for every household in a deregulated energy state. And with these system improvements, TriEagle is reaping a multitude of benefits for its residential customers:
1) Optimized integration through ChooseEnergy.com allowing the entire customer enrollment journey to occur through a highly secure API communication layer permitting immediate enrollment, credit check and status feedback to the energy shopper.
2) Improved plan performance visibility and product testing opportunities
3) Improvements in ranking in the Choose Energy ranking algorithm
4) Higher levels of customer satisfaction
The result of this process improvement is a significant increase in Choose Energy's main performance metric: customer satisfaction. A happy byproduct of this engineering effort is that TriEagle has become the most recent electricity supplier to surpass 5,000 monthly customer engagements through the Choose Energy online platform. According to Choose Energy CEO, Jerry Dyess, "Choose Energy is always looking to work with energy suppliers to improve enrollment capabilities and deliver a better energy shopping experience through our ChooseEnergy.com web platform. As seen with TriEagle, a dedicated platform integration usually results in a significant increase in customer enrollments for the provider."
Rob Cantrell, CMO of TriEagle Energy, echoed a similar sentiment: "Working with Choose Energy to attract and serve the online community fits well within our goal of providing outstanding customer service while selling new products in new channels. As TriEagle opens new energy markets, we look forward to working with Choose Energy across multiple platforms." As the deregulated markets around the United States continue to mature Choose Energy will continue to explore new avenues to trial new products and work with new energy providers.
In Texas, ChooseEnergy and TriEagle offer residential electricity plans through ChooseEnergy.com in the following utility areas:
AEP Central: Corpus Christi, Laredo, McAllen, San Benito, and Victoria
AEP North: Abilene, Alpine, San Angelo, and Vernon
CenterPoint: Angleton, Alvin, Cypress, Galveston, Houston, Pasadena, Richmond, and Spring
Oncor: Addison, Corsicana, Chandler, Dallas, Denison, Denton, Diboll, Fort Worth, Midland, Odessa, Palestine, Paris, Plano, Tyler, and Wichita Falls
Texas NMPC: Angleton, Alvin, Dickinson, League City, La Marque, Texas City, and Whitney
In Pennsylvania, ChooseEnergy and TriEagle offer residential electricity plans through ChooseEnergy.com in the following utility areas:
Citizens Electric: Lewisburg
Duquesne Light: Aliquippa, Beaver Falls, Clariton, Duquesne, Mckeesport, Pittsburgh
Met-Ed: Easton, Reading
PECO Energy: Coatesville, Norristown, Philadelphia, Pottstown, Willow Grove
Penelec: Erie
Penn Power: Youngstown
Pike County Light & Power: Millford
PPL Electric Utilities, UGI, Wellsboro Electric Company, West Penn Power
ChooseEnergy.com is an online energy marketplace that allows households and businesses to shop for the best electricity rate. The ChooseEnergy website allows for transparent energy plan comparison, focusing on simplicity and ease of enrollment, and ultimately aims to save a consumer time and money. By avoiding the hassle and confusion of a door-to-door or phone operator sales people, hundreds of thousands of residents nationwide have come to ChooseEnergy to choose an energy supplier. Since its founding, ChooseEnergy.com has helped over 150,000 consumers and business owners shop for and switch energy suppliers and plans, with over 1 billion KWH of energy selection occurring through the Choose Energy platform. ChooseEnergy.com is currently available in Pennsylvania, Texas, New York, Ohio, Connecticut, Illinois, Maryland and New Jersey. For more information, please visit https://chooseenergy.com/.
TriEagle Energy is an electricity provider that approaches the marketplace with a strong commitment to customer focus and excellence in delivery. TriEagle Energy has served commercial, industrial and residential customers since 2003. Providing value through energy cost savings and taking a long-term view of the marketplace, TriEagle uniquely provides customized solutions and products. TX PUC # 10064 / PA PUC # A-2010-2180376 / NJ BPU License No. ESL-0134