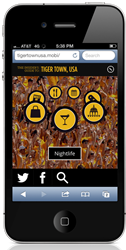 Warwick, RI (PRWEB) September 17, 2013
Brave River Solutions, a Rhode Island web development company, has launched a mobile directory application, the "Insider's Guide to Tiger Town, USA" for "Inside Columbia" magazine, based in Columbia, MO. The web-based application, built on Brave River's Mobeo™ framework, takes its name from the University of Missouri's Mizzou Tigers sports teams, the events for which are an important tourist draw for the city of Columbia.
The app, which can be accessed by visiting tigertownusa.mobi from any mobile or desktop device, uses geolocation to allow users to search for nearby attractions, as well as shopping, dining and nightlife destinations. The listings for local businesses are organized by category, and display the distance between the destination and the app user's current location. Once a listing is selected, a map can be generated with just one button-click. The listings may also feature contact information, menus and even coupon deals.
It's not just for tourists and visiting Tigers fans, however. Locals will find the Best of Columbia list, which highlights the best businesses Columbia has to offer, especially useful. Whether residents are looking to try a new restaurant or just searching for the best dry-cleaning service, Inside Columbia's new app delivers the information its users need most.
ABOUT BRAVE RIVER SOLUTIONS
Located in Warwick, RI, Brave River Solutions is a leading provider of technology solutions, including website design and application development. With over 20 years of industry experience and unique end-to-end service capabilities, the experts at Brave River partner with their clients to create solutions that enhance productivity and efficiency, and improve ROI through state-of-the-art technology. To learn more about Brave River, please visit braveriver.com.