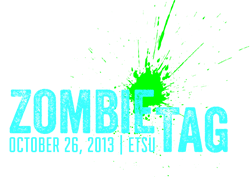 "We are so excited to be planning an entire day of zombie activities," said Dr. Blaine Schubert
Johnson City, TN (PRWEB) September 01, 2013
The ETSU & General Shale Natural History Museum and Visitors Center at the Gray Fossil Site is organizing campus-wide zombie events throughout the day. Proceeds from each event will benefit the museum and will help provide state-of-the-art exhibits and science education.
The main event, which will begin at 5:00 p.m., is a game of Zombie Tag, which is for participants 18 and up or with a valid college ID. The goal of Zombie Tag is to "survive" the game. "Human" participants attempt to reach six checkpoints on ETSU's main campus without getting tagged and turned into a "zombie." Each player is required to wear a black shirt over a white shirt, which denotes "human." As players are tagged, they must remove the black shirt, revealing their white shirt, which indicates "zombie."
For those under 18, there will be "flag" Zombie Tag at noon for ages 11 and under. This will be held on the intramural field beside the Basler Center for Physical Activity. Each participant will receive a free child's and adult's pass to the museum. There will also be face painting, a costume contest, inflatables, and more.
There will be a teens' event at 2:00 p.m. for 12-17 year olds. The teen event will take place on the main campus, and will have rules identical to the main event.
Throughout the day, Zombie Tag players waiting to enter or having exited the playing field can visit a variety of booths including professional make-up artists, event merchandise, and event sponsors.
The events actually kickoff at 10:00am, with a Zombie themed 5k, co-hosted by the ETSU Department of Recreation. Runners and walkers are encouraged to dress up like zombies and travel through campus on a certified course. Prizes will be awarded for top runners as well as costume creativity.
"We are so excited to be planning an entire day of zombie activities," said Dr. Blaine Schubert, museum director. "This is a unique way to use zombie culture to bring awareness to our Natural History Museum, paleontology."
Tickets to the main event are available online at zombietix.com or at the gate, the price and registration for the Zombie 5k will be posted soon!
The ETSU Natural History Museum and Gray Fossil Site continually showcases the 5-million-year-old Gray Fossil Site and its unique ecosystem. Visitors are invited to observe live excavations in May through October, weather permitting. There are also many special events held at the Museum, such as a monthly Lecture Series, "Fossil & Artifact ID Nights" every other month, and many ongoing youth programs. The museum is open Tuesday through Saturday 9:00 a.m. – 5:00 p.m.
The museum is located 1.8 miles off Exit 13 on Interstate 26. For more information, call (866) 202-6223 or visit the museum at http://www.etsu.edu/naturalhistorymuseum.