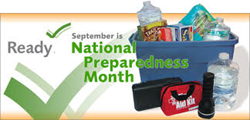 When disaster strikes, strike back!
Baltimore, MD (PRWEB) September 02, 2013
Emergencies come in several ways—a natural disaster, biological and chemical threats, mass casualties and radiation emergencies. National Preparedness Month is a government effort to educate the United States preparedness capabilities.
Less then half of household and businesses have an emergency plan and companies getting back to business depends on how preparedness and preparation is done. Businesses know that staying in business, training their people and protecting their investment, is the three steps of importance.
This month highlights the asperity of disaster and encourage the people to get an emergency supply kit, make a family emergency plan, being informed about different emergencies that may effect them and get training in community response efforts. The information concerning National Preparedness Month are everywhere; take the time out to educate or get educated with family, friends, co-workers and children about the importance of being prepared.
ServiceMaster by Singer is a full-service restoration company serving the Baltimore Washington Metropolitan areas for over a decade. We are a leading restoration company providing water mitigation, fire damage restoration, mold remediation, complete construction services, storm damage restoration, crime – trauma cleaning, hoarder cleaning, and residential and commercial cleaning services. Call for more info: 855-5-Singer.