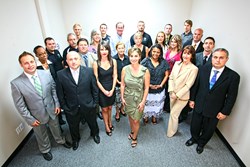 "We've seen tremendous success with these loans, especially in terms of the financial flexibility they give homeowners in the long term"
Highland Heights,Ohio (PRWEB) September 11, 2013
Cleveland Restoration Group, a unit of Smartland, http://www.smartland.com, today announced that it is expanding its services to better serve clients, especially its capabilities in terms of FHA 203(k) contractor services. Cleveland Restoration Group is the only FHA 203(k)-certified contractor in North East Ohio and a major provider of integrated renovation services across the state of Ohio.
FHA 203(k) loans enable property owners to renovate their residences without making sizable out-of-pocket, upfront payments. Typically, repair costs are added to the existing mortgage amount. The 203(k) contractor receives a series of payments from the 203(k) lender, while the homeowner pays off the repair costs in accordance with the agreed-upon mortgage amortization schedule.
Cleveland Restoration Group's unwavering commitment to top-quality service centers on the following principles:

Performing work in a timely and professional manner
Responding to clients promptly and effectively
Completing clients' paperwork during the 203(k) process, including insurance, W-9, workers compensation, city registration, licensing, bonding and permitting accurately
"Since 1978, people have used the 203(k) loan system and 203(k) contractors to fix up homes that need little or substantial work, and Cleveland Restoration Group over several years has played a dominant role in the Ohio real estate sector, working with such prominent 203(k) lenders as Wells Fargo, American Midwest Mortgage Corporation, Real Estate Mortgage Network and Third Federal Bank," said Steven Gesis, Executive Vice President of Sales at Smartland. "We've seen tremendous success with these loans, especially in terms of the financial flexibility they give homeowners in the long term," added Gesis.
Cleveland Restoration Group also possesses the required regulatory savvy and technical expertise to help clients throughout the entire financing process—from free home estimates and administrative paperwork processing to the review and submission of applications that comply with lender and HUD guidelines.
About Smartland
Cleveland Restoration Group is a unit of Smartland, Cleveland's largest real estate investment firm as well as one of the premier property management companies in Ohio. Smartland customizes services to clients as diverse as seasoned entrepreneurs, young professionals, retirees and people in academia. At Smartland, the team combines financial savvy with expertise in property management to help clients identify and invest in properties that have strong growth potential. To help clients make informed investment decisions, Smartland provides various services—including renovation services, property management and investment analysis—along with planning tools and investment opportunities.