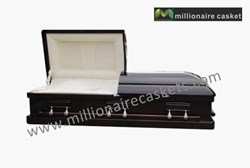 (PRWEB) September 03, 2013
MillionaireCasket.com, a popular casket company, has recently released its solid wood casket collection (http://www.millionairecasket.com/category/product/solid-wood/) to its product catalog, including many pine caskets, poplar caskets, walnut caskets and more.
These new designs of wood caskets can be made in various sizes according to the customer's requirements. They can be customized with customers' logos or others. With its special technology and experience in the industry, Millionaire Casket has significantly enhanced the cost-effectiveness of each casket. More details about the specification, construction, interior suites and exterior fittings can be available from the website of the company.
The site of MillionaireCasket.com offers customers a wide range of caskets in various materials. Furthermore, the articles published on the site provide valuable information to clients on topics related to the funeral industry. It is really a good place for casket distributors to know the latest information of the industry.
The CEO of the company said, "We know that quality is the core of any product. The product quality is carefully checked everyday to make sure that every casket can satisfy the needs of different people around the world. Moreover, many brand new designs of caskets will be added to our site soon. With a commitment to quality and client satisfaction, we have helped many customers tackle many related problems."
About MillionaireCasket.com
MillionaireCasket.com is a leading casket manufacturer from China, and focuses on the business of casket wholesale. The standard quality control policy is strictly applied here, and a third party quality assurance is also available.
More details can be found at http://www.millionairecasket.com/