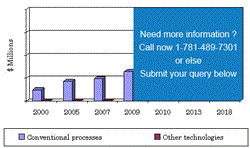 Wellesley, MA (PRWEB) September 05, 2013
According to a new technical market research report, Seawater and Brackish Water Desalination from BCC Research (http://www.bccresearch.com), the global market for seawater and brackish water desalination is projected to exceed $4.1 billion in 2013. BCC Research expects the market to reach nearly $7.2 billion by 2018, and register a compound annual growth rate (CAGR) of 11.9%.
Growing populations, increased demand for water by individuals and industry, and diminishing freshwater sources as a result of environmental degradation and drought have created water shortages across the world. Water treatment has become an area of global concern as individuals, communities, industries, countries, and their national institutions strive for ways to keep this essential resource available and suitable for use.
During the past three decades, desalination systems have emerged as effective solutions for transforming saline, brackish, and contaminated water into useable and potable products. Two major process types —thermal (distillation) and membrane-based are employed for desalting saline water. During the past decade, technical improvements in membrane-based reverse osmosis (RO) desalination have increased the energy efficiency of the desalination process and reduced RO operating costs. Experts estimate that advances in membrane technology and the development of energy recovery devices, coupled with the co-location of RO plants with power-generating facilities have resulted in a 80% cost reduction.
Because of the potentially unlimited availability of seawater, numerous efforts have been made to develop inexpensive and effective desalting technologies for converting saline water into freshwater. Currently, less than 1% of the world's water supply is produced through desalination, which entails the removal of salts from a saline source. Globally, the capacity for desalination has more than doubled in the past five years, and is slated to increase at nearly the same rate over the next five years.
Technical advances in the processes and parallel price drops have made desalination affordable for countries that were previously unable to consider the possibility. This has created a robust and rapidly growing market with many projects and corporate developments.
This comprehensive technical marketing report from BCC Research evaluates the global markets for saline water desalination plants. The goals are to provide meaningful information, unbiased analysis, and an assessment of the roles that desalination can play now and in the future of water treatment technology. Technical aspects of both thermal and membrane desalination processes are outlined, as well as a few alternative techniques that may be viable in the future are discussed. The report analyzes the water needs of 18 countries in five world regions. The study includes a discussion of known projects by country for the next five years, along with estimated capacity additions, market values and growth rates for each world region.
This detailed report provides those interested in the market for seawater and brackish water desalination plants with the specific and detailed information for making educated decisions. It is intended for a broad audience of business, technical, and regulatory executives and decision makers, including manufacturers, suppliers, and local, state, and federal governments. In addition, this study will also benefit engineers, utilities, and corporate planners who must stay abreast of industry developments.