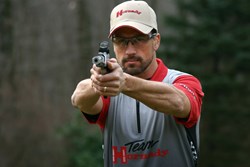 Koenig wins 15th Bianchi Cup
Grand Island, NE (PRWEB) September 05, 2013
Team Hornady member Doug Koenig now has 15 Bianchi Cup wins to his credit – far more than any professional shooter in the world. His latest feat was especially significant, shooting a perfect score of 1920 182Xs to win the European Bianchi Cup for the fifth consecutive time. The match took place August 17-18, 2013 in Philipsburg, Germany.
Koenig relied on Hornady handloaded 110 grain JHP/XTP ammunition to secure the win. "I need the best, most accurate equipment I can get my hands on," he said. "Hornady XTPs are tack drivers!"
The match included Practical, Barricade, Falling Plates, and Moving Target stages, with 6-shots taken at various distances under strict 6-second time restrictions. Extreme speed, precision, and focus are uncompromising factors to success.
Koenig has been busy this season, also earning his 20th Open Division win during the 2013 Masters International Shooting Championship held August 8th at PASA Park in Barry, Illinois. His win was decisive, scoring 582 points for a perfect 300%. The second place competitor finished with 466 points.
The Masters is a true test of precision, long range, and action handgunning skills. Stages include Bullseye, Silhouette, and Steel Challenge events. Koenig shot Hornady 115 grain XTP, and Hornady 6mm 105 grain BTHP ammunition to score his impressive win.
"Nothing else tests your skills like the Masters," said Koenig. "I have been competing in this match since 1988, and winning never gets easier. Great products like Hornady bullets help me do that."
Founded in 1949, Hornady Manufacturing Company is a family owned business headquartered in Grand Island, Nebraska. Proudly manufacturing products that are made in the USA, Hornady Manufacturing is a world leader in bullet, ammunition, reloading tool and accessory design and manufacture.
For further information regarding Hornady products, visit our web site at http://www.hornady.com. Media members interested in Hornady products for editorial review should contact Neal Emery at nemery(at)hornady(dot)com.