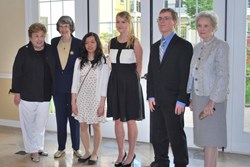 Carmel, IN (PRWEB) September 04, 2013
The Stratford, a luxury retirement community located in Carmel, Ind., gave away nearly $3,750 in cash prizes to three winners of the community's Silver Pen Essay Contest.
The 2013 Winners were:
Rochelle Brual, first place
Rochelle Brual graduated from Carmel High School in Carmel, Ind. and will be attending Purdue University in West Lafayette, Ind., in the fall to pursue a pre-pharmacy major.
John K. Olberding, second place
Megan graduated from Noblesville High School in Noblesville, Ind., and will attend Hillsdale College in Hillsdale, Mich., in the fall to study chemistry.
Katie Coffman, third place
Coffman graduated from Westfield High School in Westfield, Ind. and will attend Purdue University in the fall to pursue a pre-pharmacy major with a Spanish minor.
The Stratford started the Silver Pen Essay Contest last year to help local high school seniors with their collegiate financial burden.
The Silver Pen Essay Contest was open to any high-school senior who lives in a 25-mile radius of The Stratford and plans to graduate in 2013. Incoming entries were screened and delivered to members of the Resident Advisory Council at The Stratford for the formal judging process. This Advisory Council consists of successful retired business professionals, educators and community leaders. Entries were judged based on several criterion including creativity, fluidity of language, and the ability to convey complex feelings in a concise and clear manner.
This year, The Stratford asked seniors to discuss how technology has impacted our senior citizens. Older adults have shown the highest rate of growth with technology in the past few years. The United States of Aging Survey 2013 found that an overwhelming number seniors use cell phones, computers, the internet, and email frequently.
The Silver Pen is an annual essay contest with changing topics each year. To read the winners' essays in their entirety or to learn more about The Silver Pen, please visit http://silverpen-slc.com/.
About The Stratford
The Stratford is the first active senior living community, formerly known as continuing care retirement communities (CCRC), to be built near Indianapolis in the last 25 years. The community offers independent, maintenance-free living and a host of on-site amenities such as personalized meal plans, an aquatic and fitness center, and access to over two dozen restaurants, shop and retailers in the nearby Village of WestClay. Members also gain access to on-site assisted living, Alzheimer's care and other healthcare services should they need them. More information about The Stratford is located at http://www.stratford-living.com/.