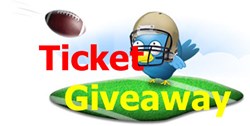 Dallas, Texas (PRWEB) September 04, 2013
Rasansky Law Firm in Dallas is giving away 2 tickets and a parking pass to the Dallas Cowboys home opener v New York Giants that will take place on Sunday September 8, 2013, in Dallas, Texas.
To enter, contestants must follow them on Twitter @RasanskyLawFirm and Re-Tweet (RT) the law firm's contest posts. Contestants can enter up to 5 times a day by RT-ing.
Drawing will be Thursday, September 5, 2013, around 430pm CST in their offices at 2525 McKinnon, Dallas, Texas.
Contest is open to anyone with a Twitter account, is 18 years of age, a legal resident of the United States, and can pick up (or make arrangements to pick up or have delivered) the tickets on Friday, September 6, 2013.
More details can be found on the Event's Facebook page at: https://www.facebook.com/events/383511605108417/
Rasansky Law Firm is giving the tickets away to connect and give back to the community, promote public awareness of the law firm, and celebrate America's favorite past time.
About Rasansky Law Firm
Rasansky Law Firm is based in Dallas and has built a national reputation of excellence by providing quality representation and the highest level of personal service with an award winning team of personal injury attorneys. Jeff Rasansky is managing partner of the firm with an outstanding record of settlements as a Dallas car accident lawyer. The law firm is also part of the exclusive 1-800ATTORNEY network. Visit the Rasansky Law Firm website for more information at: http://www.jrlawfirm.com