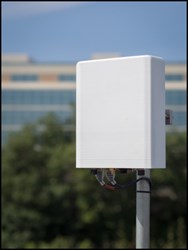 MAX4G has set the industry benchmark for performance in terms of throughput and latency for NLOS backhaul.
Eden Prairie, Minnesota (PRWEB) September 05, 2013
MAX4G, Inc., a leading developer of non-line-of-sight (NLOS) backhaul products for small cell networks, announced today the completion of a Series B round of funding. Funds from the private placement, which was oversubscribed, will be used to deliver commercially deployable links for sub 6 GHz licensed bands by the end of the year and for marketing the product to operators and equipment suppliers.
The closure of this latest round of funding follows the successful completion of field trials with a global Tier 1 carrier, and the start of testing with a second major carrier in the US.
"We're very excited," said Vladimir Kelman, CEO of MAX4G. "Carriers are beginning to move. Momentum for small cell deployments is growing very rapidly, and the closure of this latest round of funding is an affirmation of our vision, but more importantly, with the carrier field trials, the team from MAX4G has set the industry benchmark for performance in terms of throughput and latency for non-line-of-sight backhaul. The tests we went through were very rigorous, with very difficult real world conditions, and we succeeded. With this latest round of funding we now have the resources to take the company to the next level."
The MAX4G backhaul solution is built around the Qualcomm DAN3200 LTE SoC, and offers industry leading spectral efficiency of up to 20 bits/s/Hz NLOS over a single link with sub-one-millisecond TDD latency. It also features AES 256 encryption and header compression, and comes in a compact lightweight chassis with an integrated 2x2 MIMO antenna, that is suitable for mounting on utility poles or other street furniture. Units can be configured to support 5, 10, 20, and 40 MHz channels. The MAX4G system is capable of both TDD and FDD, with modem line speeds of up to 1 Gbps. Multiple products to support licensed and license-exempt bands from sub 6 GHz to E-band are planned.
About MAX4G:
MAX4G (http://www.max4g.com) is pioneering the next generation of wireless backhaul solutions for high density 4G networks. Our solutions enable carriers to deploy street level microcells in locations where fiber and microwave backhaul are neither practical, nor feasible. Our products offer best-in-class performance for throughput and latency, unparalleled flexibility, and compelling economics for small cell deployments.