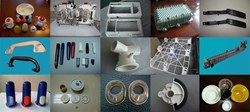 (PRWEB) September 04, 2013
For the past 18 years, Wuxi Glory Plastics, a China based plastic mold company has been the leader in the industry, presenting a very high level in plastic injection molding. Recently, the company has recently announced a promotion of custom plastic molds (http://www.plastics-molding.com/Mold_Development.htm), up to 30%, to make its products available to more people around the world.
Wuxi Glory Plastics' strict quality control system has helped the company become a famous brand in many industries like medical container industry, plastic toy industry and more. The company specializes in designing and creating all kinds of molds and industrial plastic products (http://www.plastics-molding.com/Industrial_Product.htm). With its rich experience in the manufacture and development of molds, Wuxi Glory Plastics has developed over 20 patented products that get the tasks done faster and saves money.
"We are so excited to have Wuxi Glory Plastics' custom plastic molds in our product line," says a customer from the UK, "One of the biggest advantages of the plastic molds is that they can be used for many industries such as automotive, electronics, food equipment, construction, defense and more."
Actually, Wuxi Glory Plastics considers that it is its responsibility to look after every customer within its ability. The company pledges to its clients a commitment to superior customer service and the application of state-of-the-art comfort technologies.
Wuxi Glory Plastics was established in the year 1995. It is a China based manufacturer which is an industry leader in the China plastic industry. It is known for its high end services and competitive rates. For more information visit their site address at http://www.plastics-molding.com/