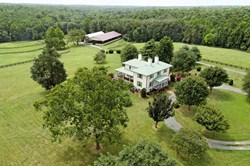 "This beautiful historical equestrian estate, which is pastoral yet only a short drive from Washington, D.C., is well suited to the global reach of the auction process," stated Thania Krafthefer, of Grand Estates Auction Company.
Charlottesville, VA (PRWEB) September 05, 2013
Grand Estates Auction Company, which specializes in creating comprehensive global marketing campaigns for luxury properties and selling those properties to the highest bidder at auction, is selling an historic 275-acre farm featuring an 1856 Antebellum Greek Revival Home, covered riding area, and 12-stall barn nestled in the foothills of the Blue Ridge Mountains at absolute auction on Tuesday, September 24th at 2:00 p.m. Although the owners of The Eastern View Farm, a luxury equestrian estate, enjoy the peace and panoramic views of the countryside outside historic Charlottesville, Va., they realize that the property's proximity to Washington, D.C., and Richmond, Va., make it desirable to a more global audience than what traditional real estate listings are able to provide and sought out the leading luxury real estate auction company to sell their property.
"The professional team at Grand Estates Auction Company provides the specialized solution we are looking for to sell our historical Charlottesville home and equestrian estate," stated Wendy Yarno, the owner of the estate. "Their vast luxury real estate experience and superior marketing expertise have proven to quickly attract the highly motivated and qualified buyers we seek. We look forward to the results of the September 24th auction."
Near to Thomas Jefferson's Monticello, the 1865 Greek Revival home is located in the Green Springs Landmark Historical District. In 2007 the home was completely updated, and exterior renovations were completed under the supervision of the National Park System to maintain the historical character of the house. Elegant rooms on the main floor include the recently updated, gourmet kitchen with a six-burner gas cooktop, custom cabinetry, and Brazilian cherry and custom granite countertops. A spacious living room, family room and a versatile sitting room/office feature heart pine floors, high ceilings, French doors opening to expansive porches, and broad windows that fill the rooms with light and offer charming views. Upstairs, three comfortable bedrooms, including a generous master suite with gas fireplace and beautiful bath, provide plenty of space for family or guests. A large basement could be finished to provide additional bedrooms or recreation space.
Approximately 136 of the 275 total acres are open, devoted to pasture and cropland with miles of quality fencing/cross-fencing, paddocks, and riding trails featuring stunning hilltop vistas and views of Foster's Creek, which traverses the property. The open land is set up for a large cattle operation, offering a rotational feeding pasture system with a gravity-fed water trough network. Secondary access to the property from Rock Quarry Road facilitates the lease of the farming operation without intrusion on the privacy or atmosphere of the manor house and equine facility. The balance of the property is a mixture of hardwood and pine forest, including 38 acres of investment-grade pine, providing habitat for abundant wildlife.
"This beautiful historical equestrian estate, which is pastoral yet only a short drive from Washington, D.C., is well suited to the global reach of the auction process," stated Thania Krafthefer, of Grand Estates Auction Company. "Often, owners of luxury real estate need the intensive advertising, direct marketing, public relations and social media an auction provides. Between the historic home, equestrian facilities, open land for farming, and hardwood forest, this property has immense appeal and we are certain this auction will attract multiple qualified bidders."
Auctions are becoming increasingly popular with buyers and sellers of luxury real estate throughout the world due to their timeliness and transparency. There are no contingencies, no lengthy negotiations, and timelines for closing are already established. To help buyers make an informed purchase, a comprehensive due-diligence packet is available, and ample time is allotted for tours and inspections prior to the auction. Similar to rare artwork that does not have comparable pieces to set the value, exceptional properties such as this historic equestrian estate are well suited for auction, where bidders set the market value.
The auction will start promptly at 2:00 p.m. on Tuesday, September 24th. Provisions for remote bidding can be arranged. The property will be available for prospective bidders to preview beginning Friday, September 20th, at 11:00 a.m., with daily preview times scheduled through the date of the auction. Buyers may contact Grand Estates Auction Company's auction information office to schedule an appointment during one of the preview times at 877-376-9560. A $100,000.00 certified check or personal check along with a bank letter of guarantee will be required to register to bid. Real estate agents and brokers are fully protected and encouraged to participate.
Grand Estates Auction Company is the leader in the niche market of auctioning luxury real estate, specializing in properties valued at $1.5 million and above throughout North America and the Caribbean. Established in 1999, the company was the first of its kind. The company is based in Charlotte, N.C. with offices in Aspen, Colo., Atlanta, Denver, Naples, Fla. San Jose, Calif., Savannah, Ga., and Vail, Colo. For more information and auction details visit http://www.GrandEstatesAuction.com.
Follow us on twitter: https://twitter.com/GrandEstates
Follow us on facebook: https://www.facebook.com/GrandEstates