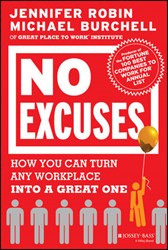 San Francisco, CA (PRWEB) September 18, 2013
You're a manager or leader. How good are you? What if you could be even better? How do you get people to bring their very best to their work and go above and beyond? The answer: you create a great workplace, argue Jennifer Robin and Michael Burchell of the Great Place to Work® Institute which compiles FORTUNE Magazine's annual "100 Best Companies to Work" list. And to create great workplaces, sometimes managers need to get out of their own way!
In their new book, NO EXCUSES: How You can Turn Any Workplace Into a Great One (Jossey-Bass; 978-1-118-35242-7; September 2013; $26.99; e-book available), the follow-up to their 2011 book The Great Workplace, Robin and Burchell expose the self-defeating mindset that lead managers to believe a great workplace is out of their reach and offer a clear path for change.
Even managers who yearn to create a successful workplace are often deterred by an ingrained idea that their organization is not the kind that can be transformed into a great workplace. While many managers agree that creating a great workplace is inspiring and interesting, many come up with the excuse that their type of work environment does not lend itself to greatness.
These managers say their company is too big, or too small; it has an introverted CEO, is too new in the market, etc… the reasons they proffer are many. But these excuses are what keep managers and their workplaces locked on its same trajectory—less successful and not as great as they could be.
NO EXCUSES illustrates over and over through case studies, stories, tips and tools every manager across a diversity of backgrounds in terms of nationality, gender, age, tenure, work history, ethnicity and education level can create a great workplace.
Filled with real-life case studies and inspiring stories from a wide range of major organizations, including Coca-Cola, Whole Foods, Zappos, and Accenture, NO EXCUSES describes how leaders of great workplaces have surmounted very real difficulties with aplomb. Whether an obstacle involves the organization's leadership, employees, environment, or any other factor, a great workplace is always possible if managers interrupt their own negative thought patterns and lead people properly.
The release of NO EXCUSES corresponds with the release of the Great Place to Work® Institute's Top 25 Multinational Companies to Work for List on October 22, 2013.