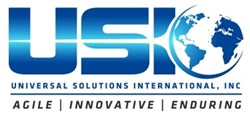 Leading in Innovative Logistics Solutions...
Newport News, VA (PRWEB) September 06, 2013
In 2003, the Vice Chief of Staff of the Army (VCSA) designated the REF the responsibility to work directly with operational commanders to find promising materiel solutions to their identified operation requirements. Selected solutions may be off the shelf or near-term developmental items that can be available quickly to allow the REF to continue rapidly inserting new technology solutions that address the current battlefield issues of engaged and deployed forces.
USI shall provide contractor support services necessary to perform CONUS and OCONUS Field Service Support. Tasks include comprehensive logistics support and project management to assess, assemble, install, train, account for, sustain and maintain REF issued Intelligence, Surveillance and Reconnaissance (ISR) and/or like equipment.
About USI
USI is a Service-Disabled Veteran-Owned Small Business (SDVOSB) that is recognized for its proven and demonstrated expertise as a professional service provider for program management, system engineering, and logistics for various high technology markets. USI supports the federal government at large; including DoD, DHS, and DoS. USI is currently serving multiple federal agencies in mapping solutions to requirements, solving their toughest problems in requirement definition, concept development, architecture, material development, capability demonstration, and technology transition. Expertise includes Multi-Service and Other Agency coordination and planning, as well as international market development.