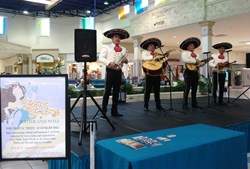 'It is important to celebrate Hispanic Heritage Month with our shoppers so we're excited about our new performers,' said Maggie Anzardo, Marketing Director of Southland Mall.
Miami, FL (PRWEB) September 04, 2013
Southland Mall welcomes the month of September with a celebration of Hispanic Heritage and an appreciation for cultural experiences. Southland Mall will present weekly "Festive Friday" performances and interactive activities that highlight diverse cultures, music and art forms. Every Friday, shoppers are invited to the mall's Center Court to enjoy live entertainment with their friends and family from 6:00 p.m. to 8:00 p.m.
Below is a list of events for the month:

September 6th – "Mariachi Voces de America" will serenade shoppers with a live 50 minute performance of traditional Mexican music. There will be trumpets, guitars and live singing.
September 13th – Join the "LA Style Salsa Dancers" from "A Party Hall" as they showcase their best salsa dance moves and offer mini salsa classes throughout the evening.
September 20th – The Alegria Performing Arts Center presents a fusion dance performances to honor Hispanic Heritage Month. From Flamenco to Tango, dancers will transport our shoppers to Latin America and Spain to truly get a taste of Hispanic culture.
September 27th – Travel to the Indian Peninsula as intermediate and professional dancers from "Bellydancing by Shayna" present their latest bellydancing moves. The National Karate's "Team Shendo" will also perform self-defense and karate routines that are kid friendly and easy to learn.
"Festive Fridays" are free events that are open to the public. Southland Mall is conveniently located on U.S. 1 and S.W. 205th Street, off the Florida Turnpike, Exits 11 or 12. For more information on Southland Mall or to learn about partnership opportunities for upcoming "Festive Fridays," email inquiries to info(at)thinkpeacock(dot)com.
###
About Southland Mall
Southland Mall, located in South Miami-Dade County, Florida, the densest, most populous county in the southeastern portion of the state of Florida, has over 1 million square feet of gross leasable area. Southland Mall is conveniently located on U.S. 1 and SW 205th Street, off the Florida Turnpike, Exits 11 or 12, and is the only enclosed regional mall servicing South Miami-Dade County down to the Florida Keys. Southland houses over 100 specialty stores, including Macy's, Sears, JC Penney, TJ Maxx, Old Navy, Starbucks, a 16-Plex Regal Cinema and diverse Food Court. For more information about Southland Mall, visit mysouthlandmall.com on your mobile device, follow us on Twitter @solandmall, 'Like' us on Facebook at southlandmallmiami, or call (305) 235-8880.
About Gumberg Asset Management Corp.
Gumberg Asset Management Corp., a diversified real estate retail organization with a tradition of uncompromising integrity and unbeatable performance is the manager of Southland Mall. For further information, visit the Company's website at http://www.gumberg.com.