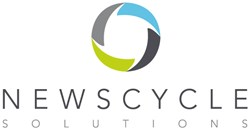 By focusing our development efforts on the NEWSCYCLE Unified solution suite, we can accelerate product delivery cycles and help publishers achieve their business objectives.

Talin Bingham
Chief Technology Officer NEWSCYCLE Solutions
Springville, Utah and Tampa, Florida (PRWEB) September 05, 2013
NEWSCYCLE Solutions today unveiled its new product and support strategy that comes 45 days after the company was formed by the combination of Digital Technology International (DTI) and Saxotech. The new strategy is called "NEWSCYCLE Unified and Unlimited" and consists of a unified product line while providing unlimited support and an upgrade path for all customers and all products.
The foundation of the NEWSCYCLE Unified product line includes five core solutions based upon the market-leading products of the combined portfolio of DTI and Saxotech currently utilized by thousands of publications worldwide. All are available as Cloud hosted solutions and have easy-to-use Web browser interfaces that will unify and enhance the user experience. Collectively, the NEWSCYCLE Unified solutions form a strategic platform for an integrated news media enterprise.
NEWSCYCLE Digital — based on Saxotech Online — is a flexible digital content management system for creating and publishing multimedia content enabling media companies to reach their audiences across multiple digital channels from Web to mobile, including smartphones and tablets.
NEWSCYCLE Content — based on Saxotech Mediaware Center — is a multi-channel workflow and content management system allowing media companies to produce and share content in a streamlined and collaborative environment.
NEWSCYCLE Circulation — based on DTI Circulation — is a comprehensive distribution, marketing and subscriber management for all print and digital products providing media companies with powerful tools to generate revenue and increase customer engagement.
NEWSCYCLE Advertising — based on DTI Advertising — is a next generation solution for booking, creating, publishing and pricing all ad types for the Web, print, email, direct mail, inserts, mobile and social media helping media companies to sell more ads in more ways on more channels.
NEWSCYCLE Audience — based on Saxotech Connect — is an innovative audience relationship management solution identifying reader interests and delivering personalized content and advertising to drive the digital business models of media companies.
"As a newly combined business serving a global customer base of more than 3,000 media companies, we knew it was important to be clear and decisive about our future directions," said Dan Paulus, president, NEWSCYCLE Solutions. "We made it a priority to address product overlap to focus our energies on delivering the best solutions to our customers. Our analysis included objective criteria such as market adoption, functionality and future extensibility. We are confident that this solution set provides publishers with the most robust and complete range of innovative and market-proven solutions available today."
NEWSCYCLE Unlimited Program provides a path forward for every customer and every product. The company is making the following commitments to all customers with the latest supported versions of the company's current products.

A commitment to support all current products indefinitely
A commitment to provide bug fixes and essential development indefinitely
A commitment to provide an upgrade path to similar functional product
A commitment to provide an upgrade path on future platforms
A commitment to provide published annual roadmaps with regular updates illustrating new feature development planned and the upgrade paths for all products
"By focusing our development efforts on the NEWSCYCLE Unified solution suite, we can accelerate product delivery cycles and help publishers achieve their business objectives," said Talin Bingham, chief technology officer, NEWSCYCLE Solutions. "Collectively, we have the industry knowledge and experience to support all current products while delivering the next generation of innovative solutions that our customers need to compete."
The NEWSCYCLE Unified and Unlimited plan will be formally introduced on September 16, 2013 in a worldwide webcast available to all Saxotech and DTI customers. The presentation will take place in front of a live audience of DTI and Saxotech customers at the annual DTIConnect conference in Salt Lake City, UT.
About NEWSCYCLE Solutions
NEWSCYCLE Solutions™ delivers the broadest range of technology solutions for the global news media industry, including content management, digital advertising, circulation, and audience relationship management. The company's innovative solutions and professional services help media organizations engage audiences through Web, print, mobile, and social media channels. NEWSCYCLE Solutions helps more than 3,000 publishers around the world compete for audience and revenue across the entire media landscape. The company's US offices are in Florida, Maryland, Minnesota and Utah; with international offices in Australia, Canada, Denmark, Germany, Norway, Panama, Sweden, and the United Kingdom. For more information, go to: http://www.dtint.com or http://www.saxotech.com.
Media Contacts
Steve Nilan
Vice President, Marketing
steve(dot)nilan(at)dtint(dot)com
+1 (916) 600-8119
John Pukas
Vice President, Business Relations
jpukas(at)saxotech(dot)com
+1 (813) 464-9563