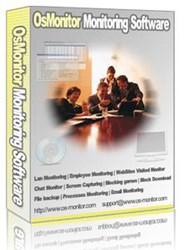 With updated OsMonitor, employers can now keep a better check on employees' activities.
(PRWEB) September 05, 2013
Recently, Os-monitor.com, the company specializing in developing the employee monitoring software, has updated its Employee Monitoring Software which now includes enhanced features and controls for recording employee activity and hence increasing productivity and efficiency.
OsMonitor has a range of features that enable the employers to fully monitor employee activity. The software can tell whether employees are carrying out the tasks assigned to them, it also keeps a check on emails sent from employee computers, and with this program the employers may as well install varying degrees of restrictions on employees' computer systems. This way employees stay focused on their work alone rather than wasting time and resources on useless websites and activities that bring loss to the organization. Another important risk that can be reduced with OsMonitor is the risk of any security breach; when employees are restricted from downloading and installing whatever useless programs they want, the risk of any external security breach is minimized.
With updated OsMonitor, employers can now keep a better check on employees' activities. The company can keep a detailed track of emails sent, website visited and data transfer too. Hence, a complete analysis of every employee can be made this way.
Technology has several perks but it is not without certain disadvantages too; organizations using computer systems connected to internet facility lose billions daily just because employees waste their time on the internet doing whatever they please. Programs like OsMonitor can play a vital role in minimizing such grave losses. When the employee time will be utilized fully, the company will have increased efficiency as well as productivity.
Established in the year 2006, Wangya Computer Co., Ltd specializes in developing different kinds of useful monitoring software programs. Operating through its website os-monitor.com, the company has all its development offices based in Asia.
More information can be found at http://www.os-monitor.com/product.htm