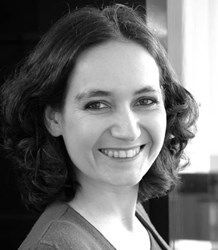 San Diego, CA (PRWEB) September 05, 2013
NewSchool of Architecture and Design(NSAD) announces the appointment of Tatiana Berger as associate professor of architecture. Berger brings more than 20 years of international experience in both professional practice and education to NSAD, having collaborated with renowned architectural firms and designers, such as Richard Meier and Álvaro Siza Vieira, on numerous high-profile projects in Europe, Russia and the United States.
Berger's work includes designs for multiuse, megaform structures over the Moscow railways; a study for sustainable housing outside Beijing, China; and the reconstruction of the historic Chiado district in Lisbon, Portugal. She was also hired by ILF Consulting Engineers as a project manager on the 2014 Winter Olympics project. Berger studied under eminent architectural historian, writer, and critic Kenneth Frampton, and she has been a guest critic at Harvard University, ETH Zurich, Moscow School of Architecture, and the School of Architecture in Porto, Portugal
"Tatiana Berger's impressive global and interdisciplinary credentials make her uniquely suited for this role, as her experience and knowledge will help shape our students' views and understanding of the global design field," said NSAD Interim President Vivian A. Sanchez. "We look forward to her contributions at NewSchool, where her experience will provide invaluable insight for our students as they develop skills for success in the global workforce."
Berger directs her own design-build architecture firm in La Jolla, Calif., and her interdisciplinary work in design and construction includes developing urban environments, landscapes, buildings and furniture. In the field of academia, Berger has served as a faculty member at Boston Architectural College and as an adjunct faculty member at Roger Williams University in Rhode Island. In 2010, she co-founded the Compostela Institute, a summer academy for the study of architecture and landscape architecture in Santiago de Compostela, Spain. Berger holds a B.A. in Architecture from the University of California, Berkeley and a master's degree in architecture from Princeton University. In addition to Frampton, some of the most distinguished critics in the world have written about Berger's professional and academic work, including William J.R. Curtis and Juhani Pallasmaa.
Berger joins other recent additions to NSAD's faculty and administration as part of the school's emphasis on interdisciplinary and global design education opportunities. In May, Linda Sellheim was named Digital Media Arts chair, overseeing educational collaborations between NSAD and the award-winning Media Design School in Auckland, New Zealand; and Elena Pacenti joined NSAD in August as director of the Domus Academy School of Design at NSAD, which is offering a new interior design program, developed in collaboration with Domus Academy in Milan, Italy. At NSAD, Berger will teach in the school's Master of Architecture program.
About NewSchool of Architecture and Design
NewSchool of Architecture and Design (NSAD), founded in 1980, is located in San Diego, California. For the past two years, DesignIntelligence has ranked NSAD among the top 10 undergraduate architecture schools in the western United States in its publication "America's Best Architecture & Design Schools." NSAD is accredited by the Accrediting Council for Independent Colleges and Schools (ACICS), a national accrediting agency recognized by the U.S. Department of Education and the Council for Higher Education Accreditation. NSAD's Bachelor of Architecture, Master of Architecture and Executive Master of Architecture programs are accredited by the National Architectural Accrediting Board (NAAB). NSAD also offers a pre-professional Bachelor of Arts in Architecture, along with a Bachelor of Science in Digital Media Arts, a Bachelor of Science in Construction Management, a Master of Construction Management and a Master of Science in Architecture. The school's expanding global design education offerings include a new Bachelor of Interior Design program available in 2013–2014. For more information, visit http://www.NewSchoolArch.edu.