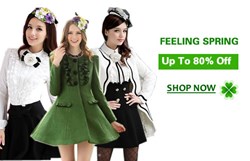 (PRWEB) September 06, 2013
Cheap dresses may be linked to low quality, but 4leafcity.com, one of the leading companies of of women's dresses, says that it is not always true.
Recently, the company launched a promotion of bridesmaid dresses, up to 48% off (http://www.4leafcity.com/product-bridesmaid-dresses-011001003.aspx).
According to the CEO of the company, the special offer covers all its bridesmaid dresses online. These dresses are specially designed to attract more new clients and acknowledge old clients as well. 4leafcity.com has more than 10 years of experience in the dress making field, and its founder, Ms. Wang, is a famous dress technology consultant in the industry as well.
The CEO says that the quality of fabric is the key to the production of all women's dresses, and their bridesmaid dresses are specially designed by the top designers from their company, which aims to provide a one-stop shopping experience for women worldwide. Based on its marketing observation, 4leafcity.com's dress experts have started using different marketing strategies to meet the requirements of different clients.
"Our top designers keep a close eye on recent fashion shows, and know the latest trends," says the CEO. "Our designs are a reflection of our team. We continue our focus to expand our customer service operations and grow our worldwide facilities. Now, we provide fast delivery to give the best experience possible to a wide array of people."
About 4leafcity.com
4leafcity.com is one of the leading providers of women's dresses. The company is currently preparing many case studies that educate its young designers while helping them develop self-esteem, confidence and love of learning. For a full list of services and to learn more about 4leafcity.com, please visit http://www.4leafcity.com.