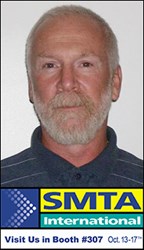 Cranston, RI (PRWEB) September 08, 2013
AIM Solder, a leading global manufacturer of assembly materials for the electronics industry, announces Karl Seelig, AIM's Vice President of Technology, is to present "Alternative Lead-Free Alloys for SMT Assembly" at the 2013 SMTA International Technical Conference in Fort Worth, TX, October 13th-17th. The presentation is scheduled on Wednesday, October 16th during session MFX5: Alloy Selection and its Influence on Electronic Assembly from 10:30 am – 12:30 pm in Room 202D of the Fort Worth Convention Center.
The intention of this paper is to investigate alternative lead-free alloys for SMT assembly and the potential successful outcomes of the implementation thereof. Seelig demonstrates the chemistries of newly developed lead-free alloys and the effects they have as it relates to assembly performance. The presentation includes mechanical data and testing procedures examining the risks involved when changing alloys, including tin whisker growth, and head-in-pillow mitigation, drop-shock performance and flux compatibility, providing valuable insight into initial alloy composition versus the alternative.
In his more than 30 years of industry experience, Karl Seelig has written and presented numerous technical papers on topics including lead-free electronics assembly, no-clean flux technology, assembly and process optimization, inspection, and metallurgical studies. Seelig serves as the Chairman of the IPC Solder Products Value Council and has been involved in the development of material specifications under IPC. He also has received numerous patents in soldering technology, including four lead-free solder alloys.
About AIM
Headquartered in Montreal, Canada, AIM Solder is a leading global manufacturer of assembly materials with manufacturing, distribution and support facilities located throughout the world. AIM produces advanced solder products such as solder paste, liquid flux, cored wire, bar solder, epoxies, lead-free and halogen-free solder products, preforms, and specialty alloys such as indium and gold for a broad range of industries. A recipient of many prestigious SMT industry awards, AIM is strongly committed to innovative research and development of product and process improvement as well as providing customers with superior technical support, service and training.
The company will be exhibiting at SMTAI, visit booth 307 to learn more about the products and services offered by AIM or go to AIMsolder.com.
Upcoming Events:
September 10, 2013 - SMTA Capital Johns Hopkins University/Applied Physics Lab, Laurel, MD USA
October 9, 2013 - SMTA Long Island Islandia Marriott Long Island, Islandia, NY USA
October 15-16, 2013 – SMTA International Fort Worth Convention Center, Fort Worth, TX USA
November 12-15, 2013 – Productronica Messe München, Munich, Germany