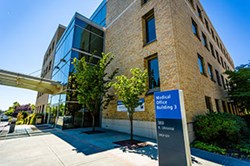 Portland, OR (PRWEB) September 16, 2013
Pediatric Cardiology Center of Oregon (PCCO) is pleased to announce the addition of Andrew W. Hoyer, MD to its group of physicians. Dr. Hoyer brings his expertise of cardiac MRI to PCCO, something not previously offered at the center.
This addition to PCCO's services will not only bring another invaluable diagnostic tool to the Legacy campus, but streamlines care by eliminating the need to send patients across town to another facility.
Adding Dr. Hoyer, and his specialty in cardiac MRI, to the team of pediatric cardiologists at PCCO greatly enhances the facility's ability to provide exceptional health care at both their new location on the Eastside and their Westside location.
The Eastside clinic is located on the campus of Legacy Emanuel's new Randall Children's Hospital, dedicated to a multitude of pediatric specialties for support of children and their families. The Westside clinic is located at the St. Vincent Medical Center, part of Providence Health & Services in Oregon, a not-for-profit network of hospitals, health plans, and affiliated health services.
About Andrew W. Hoyer, MD
Dr. Hoyer received his undergraduate degree from Yale University and his medical degree from the University of Massachusetts. He went on to complete his pediatrics residency at Children's National Medical Center in Washington, DC, and his pediatric cardiology fellowship in Portland, Oregon, at OHSU.
Dr. Hoyer learned cardiac MRI at Children's Hospital in Boston, then spent six years as an Assistant Professor of Pediatrics at the University of Virginia Medical Center in Charlottesville, VA. While interested in every aspect of pediatric and congenital heart disease, Dr. Hoyer has a particular interest in imaging of complex anomalies by transthoracic, fetal and transesophageal echocardiography, cardiac CT and MRI.
Dr. Hoyer is excited to return to the Portland area, where he met his wife, Gwen, a native Oregonian.
About Pediatric Cardiology Center of Oregon
Since 1983, the physicians at Pediatric Cardiology Center of Oregon have offered excellent care for children and adults with congenital heart disease. PCCO's pediatric heart program has pioneered a number of advances in the treatment of congenital heart disease, including the first Norwood Procedure for hypoplastic left heart syndrome (HLHS) in Oregon, as well as the first successful arterial switch procedure in a newborn with transposition of the great arteries (TGA). Since its inception, PCCO has grown to a team of five board-certified pediatric cardiologists and one board-certified physician assistant. For more information, go to http://www.pccoforegon.com.