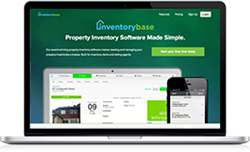 The software's popularity has extended from the property letting world to places we never imagined.
Portsmouth, Hampshire (PRWEB UK) 11 September 2013
Property inventory software, InventoryBase has just launched its brand new website.
InventoryBase has become one of the strongest inventory software brands on the market, and the new website has been designed to build on that success.
The website has a revamped and user-friendly subscriptions breakdown, a newsletter signup facility and also provides developers with everything they need to know to create their very own plug-ins and extensions.
InventoryBase creator Steve Rad said: "For me the most exciting and important part of the new website is our blog. We enjoy interacting with our clients and have found over the last year that there is so much going on in the lettings and property inventory world. The blog will touch on all the important topics in the industry and will be a chance for us to give an opinion on what's going on."
The new website design reflects the ever changing demand of the clients that use the software. The 'Enterprise' system, which includes custom designed reports, enhanced diary management and advanced pricelists, has proved popular and now has its own dedicated landing page, clearly explaining its features and benefits.
Steve added: "The new website is the start of the next phase for InventoryBase. The software's popularity has extended from the property letting world to places we never imagined – this month we are even developing packages for Universities."
Notes to editors:
http://www.inventorybase.com
http://www.radweb.co.uk
For further information please contact Steve Rad:
03333 444 506
steve(at)radweb(dot)co.uk
Portsmouth, UK Office:
+44 (0)33 33 444 505
12 Acorn Business Centre,
Northarbour Road,
Portsmouth,
PO6 3TH