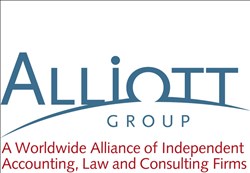 We are delighted to have been approached by the Daily Telegraph to be featured in its Business Club as this is an excellent forum to share best practices and gain exposure to new audiences - CEO James Hickey
(PRWEB UK) 10 September 2013
Alliott Group is pleased to announce that a film about the International Alliance will be publicly aired in September on the prestigious Daily Telegraph's business club forum.
The Daily Telegraph expressed an interest in filming the Alliott Group for their business section during the annual EMEA conference which was hosted earlier this year in Dublin.
The film captures the culture, social ethics and gives insights about the Alliance through numerous interviews from both members and respective Regional Chairmen.
"Alliott Group is striving to provide entrepreneurs with alternative solutions for their professional business needs as they look to expand their businesses whether that be on a local, national or cross-border level. Our involvement in the Daily Telegraph Business Club is one of many initiatives that we are undertaking at the moment to increase awareness of the Group and our members in some 80 countries," commented James Hickey CEO Alliott Group
To see the film CLICK HERE.