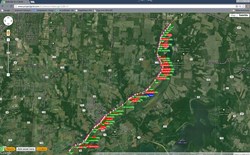 This mobile asset manager was formed in collaboration with Google maps, and creates an innovative way to collect, categorize and itemize conditions in the field. The iiCollectorTM technology is an intelligent integration of office and field documentation.
Columbus, Ohio (PRWEB) September 09, 2013
Collecting data on U.S. Route 42 in Ohio, engineering technicians determined the ProjectGrid.com® mobile asset manager, the iiCollector TM (version 1.0), accurately identifies roadside safety deficiencies and makes roads safer.
Earlier this month, Resource International, Inc. (Rii) launched iiCollectorTM, a web-based app that uses data from Google Maps and integrates such information into its project-management platform, ProjectGrid.com ®. With this innovative technology, field technicians can rate and categorize various road deficiencies on their mobile devices, expediently exchanging this information with both the office and the client.
This mobile asset manager was formed in collaboration with Google maps, and creates an innovative way to collect, categorize and itemize conditions in the field. The iiCollectorTM technology is an intelligent integration of office and field documentation, which is accessible via mobile devices such as a smartphone or tablet. The Project Grid Mobile asset manager, iiCollectorTM, has a wide range of applications: its flexible design allows for use by a wide range group of professionals.
Utilizing this technology, field personnel are able to access--in real time-- relevant manuals, DOT specifications and any required design drawings, as required by the field condition inspection and assessment. They are also able to collect asset conditions right from the field and send it back to the office or to clients.
To demonstrate the web-app for a Design-Build Construction project, engineers inspected the roadside safety features on U.S. Route 42 and compared them with the prevailing manuals. The technicians used the app to gather information on the total number and condition of all signs, guardrails and other roadside safety features in a matter of a few hours.
The project, Warren-Green U.S. 42, consisted of 8 miles of multi-lane divided roadway in the northeast corner of Warren County, near Waynesville, Ohio. There were a total of 170 assets collected in less than 8 hours using the iiCollectorTM. Each asset that was collected included a photo of the asset, a rating based on the condition of the asset and geo-reference on the map provided by Google maps. The app allows assets to be rated based on their condition and given a color code corresponding with that condition. Green assets represent an acceptable asset, yellow assets represent an unacceptable asset with low urgency, light red assets represent a medium urgency and the dark red assets represent a critical high urgency asset. By entering this data into the system, the iiCollectorTM analyzes the data and sends urgent deficiencies to first responders. These first responders are trained to immediately fix any high urgency assets. See Figure A which depicts the data that was collected during this project, which is color coded to fit this key.
Using the data in the field collected on U.S. Route 42, engineers were able to analyze the roadside safety features and identify deficiencies. Based on the overall assessment, technicians determined that the guardrails do not meet the safety requirements and must be replaced on U.S. Route 42.
The ProjectGrid.com® iiCollectorTM is primarily designed for managing roadside safety, as the concept of "Safer Roads by Design" has been receiving great national and international attention. Roadside safety has an increasingly great social and economic impact in our industry.
Roadside accidents account for 20 to 30 percent of fatalities world-wide, with economic value of loss in the billions of dollars. According to the Transportation Research Board, roadside accidents account for 15,000 lives lost per year and 1,000 serious injuries per day, most of which occur on two lane roads. The app's vision is to provide safer roads by design and ultimately reduce the frequency and the severity of accident-related injuries and the number of accident-related fatalities.
The unique and innovative ability of the iiCollectorTM (version 1.0) integrates field operation with office documents, communicates between the field operation and project management and accesses documents formerly available only in the office. These qualities make the web-app a versatile tool for a variety of user groups.
About ProjectGrid.com®
ProjectGrid.com® is an interactive, password-protected, project and program management Web site. ProjectGrid.com® provides a centralized database to host your project information that can be accessed anytime, anywhere through the World Wide Web. Each team member receives a unique password to log into the site and access the information to which they have authorization. The system works in conjunction with email to notify members of updates and changes immediately.
By using the ProjectGrid.com® project Web site, risk is reduced by keeping a clear audit trail of documentation and keeping all team members accountable. Furthermore, using such a communication center for project-critical information promotes a paperless environment, significantly increases efficiency, and saves time and money with fewer communication bottlenecks, thus ensuring your project is completed on time and within budget.
The vast benefits of utilizing ProjectGrid.com® on design projects include: Project hierarchy, flexible and fully customizable document management, file notifications, redlines/comments, revision control, tracking and managing meeting minutes, and an automated RFI handling system to improve collaboration between various participants on a project.