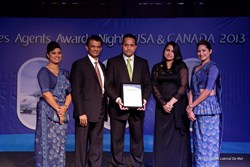 New York, NY (PRWEB) September 12, 2013
Leading online travel website CheapOair and its corporate travel affiliate Travelong were honored alongside top competitors including Expedia and Orbitz when they received an outstanding sales performance award from SriLankan Airlines, the national carrier of Sri Lanka.
The event took place on Aug. 24, 2013 at the Hilton Suites Toronto in Markham, Canada where Nishantha Wickremasinghe, the chairman of SriLankan Airlines, discussed the airline's product enhancements and future plans for aircraft acquisition, as well as strategies being developed to boost tourism to the nation known for its beaches, nature and culture.
"CheapOair's performance shows a strong commitment to helping increase sales of SriLankan Airline's product," said Sanjay Hathiramani, senior vice president of supplier relations at CheapOair. "We are pleased to be recognized by SriLankan Airlines, and we look forward to continued success in 2013."
According to Wickremasinghe, tourist arrivals in Sri Lanka reached an all-time high in 2012, with double digit growth expected in 2013. Similarly, CheapOair booking data reveals bookings to Sri Lanka have increased 25 percent year over year, with frequent promotions encouraging customers to take advantage of CheapOair's fast flight search speed, price comparison and easy booking to find affordable travel deals to the world's most unique destinations, like Sri Lanka.
"We would like to thank CheapOair for their remarkable sales achievement for SriLankan Airlines in 2012/2013," said Dillan Ariyawansa, head of SriLankan Airlines USA and Canada. "Sales have substantially increased and our partnership is much valued. We appreciate CheapOair's support and effort to sell our award-winning products and services."
To be the first to know, visit http://newsletter.cheapoair.com/ and sign up to have CheapOair's travel deals, tips and more sent directly to your inbox.
About CheapOair
CheapOair.com is a top travel website for millions of travelers who expect more for less. CheapOair scans over 450 airlines in seconds to return guaranteed low prices on flights, hotels, car rentals and vacation packages, making planning and booking trips easy and hassle-free. With 24-hour support by phone and live chat, award-winning apps for iPhone and Android, and travel tips on Facebook and Twitter, CheapOair makes affordable travel possible anytime, anywhere. Book travel on http://www.cheapoair.com/ or call 1-800-566-2345.
About SriLankan Airlines
SriLankan Airlines, the national carrier for Sri Lanka, is an award-winning airline with a firm reputation as a global leader in service, comfort, safety, reliability, and punctuality. Awards include World's Friendliest Cabin Staff by Skytrax, Best Airline in South Asia from Travel Trade Gazette, World's Most Reliable Operator of Airbus A330s and A340s by Airbus Industrie, and the Etihad Global Excellence Award for Best Regional Caterer. Launched in 1979, the airline's hubs are located at Bandaranaike International Airport in Colombo and Mattala Rajapaksa International Airport, Hambantota providing convenient connections to its global network (including codeshare partners) of 64 destinations in 34 countries around the world. SriLankan has mutual code share services with Etihad Airways, Malaysia Airlines, Air Canada, Royal Jordanian, Alitalia and Mihin Lanka. Air India and Saudi Arabian Airlines also code share on some of SriLankan Airlines' routes. For more information, visit http://www.srilankan.com.