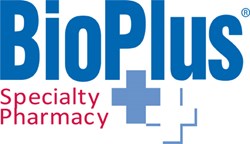 Altamonte Springs, FL (PRWEB) September 12, 2013
BioPlus Specialty Pharmacy (BioPlus), one of the nation's leading specialty pharmacies, proudly announces that it is a participating provider for the specialty pharmacy network of BlueCross BlueShield of Tennessee as of August 1, 2013.
Specialty pharmacies provide access to intravenous, oral, and injectable medications needed for conditions such as bleeding disorders, hepatitis C, cancer, arthritis, and other chronic diseases. Typically, access to these types of medications is limited and not usually available at local drug stores.
"At BioPlus, our focus is always on delivering improved patient outcomes in a cost-effective way that benefits patients, payers, and physicians," states Dr. Stephen Vogt, president and CEO of BioPlus. BioPlus not only provides access to specialty medications, but also provides patient education and support which results in improved drug adherence and a better quality of life for patients.
About BioPlus Specialty Pharmacy
BioPlus is a pharmacist-owned, national specialty infusion pharmacy providing high-touch services and specialty pharmaceuticals for bleeding disorders, cancer, hepatitis C, immune deficiencies, neuromuscular disorders, and other complex, chronic conditions. BioPlus is licensed in all 50 states and accredited by URAC, VIPPS, and Accreditation Commission for Health Care (ACHC). BioPlus is one of the nation's largest independent specialty pharmacies; patients can contact the pharmacy toll free at 1-888-514-8082.
About BlueCross®
BlueCross BlueShield of Tennessee's mission is to provide its customers and communities with peace of mind through affordable solutions for health and healing, life and living. Founded in 1945, the Chattanooga-based company is focused on reinventing the health plan for its 3 million members in Tennessee and across the country. Through its integrated health management approach, BlueCross provides patient-centric products and services that drive health improvement and positively impact health care quality and value. BlueCross BlueShield of Tennessee, Inc. is an independent licensee of the BlueCross BlueShield Association. For more information, visit the company's website at bcbst.com.
For information: http://www.bioplusrx.com or
Contact: info(at)bioplusrx(dot)com
Phone: 1-888-292-0744