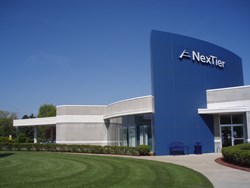 "The lifting of the formal agreement reflects the unwavering focus and multi-year effort by the executive management team and the board of directors to address and correct the issues identified by the OCC," said Donald S. Shamey, CEO
Butler, PA (PRWEB) September 11, 2013
NexTier Inc., the holding company of NexTier Bank (the "Bank"), announced today that the Office of the Comptroller of the Currency (OCC) has lifted its formal written agreement with NexTier Bank effective September 4, 2013. As such, this action brings to a conclusion the agreement the Bank entered into with the OCC in June, 2010.
"The lifting of the formal agreement reflects the unwavering focus and multi-year effort by the executive management team and the board of directors to address and correct the issues identified by the OCC that largely resulted from the bank's Arizona commercial real estate portfolio," said Donald S. Shamey, chief executive officer. "We are pleased to have reached this important milestone and look forward to future growth and opportunities to further increase the value of our banking franchise."
In complying with the terms of the formal agreement, the bank lowered its credit risk, reduced its level of criticized assets, and implemented a profit plan to generate sustained earnings.
"We are proud of our efforts to restore the bank to health and financial stability, which included diligently working down problem assets, reviewing credit policies, and improving profitability," said NexTier President, Margaret Irvine Weir. "Under Don's (Shamey) leadership, we remained focused and driven to earn our way back to health. Having him in the CEO seat during this challenging time in our banks history made all the difference in the world. We are grateful for his patience, persistence and leadership"
In addition to the lifting of the formal agreement, the Bank was informed by the OCC that it was no longer subject to the individual minimum capital ratios (the "IMCRs") established by the OCC for the Bank. On June 30, 2013, the Bank was considered "well capitalized" for regulatory purposes with a Tier 1 leverage ratio of 9.43%, a Tier 1 risk-based capital ratio of 14.41% and a total risk-based capital ratio of 15.64%. The Bank exceeded the minimum regulatory requirements to be considered "well capitalized" of 5.00% for the Tier 1 leverage ratio, 6.00% for the Tier 1 risk-based capital ratio and 10.00% for the total risk-based capital ratio.
"This executive team has made significant strides in improving the bank's performance. Don (Shamey) has been instrumental in leading the team to successfully meet the requirements of the OCC," said Mark Snyder, Chairman of NexTier Inc. "His efforts, and those of his team, have been commendable and we could not be more pleased with the progress the Bank has made. We look forward to the continued success and growth of the NexTier franchise."
About NexTier Inc.
NexTier Inc. has assets of $500 million and serves the western Pennsylvania region with corporate offices in Butler and Wexford. NexTier, Inc. includes NexTier Bank, NexTier Insurance Services, and NexTier Wealth Management. NexTier Bank has 15 community offices throughout northern Allegheny, Butler and Armstrong counties. http://www.thebank.com
###